15 BEST SUBSCRIPTION BOXES FOR COUPLES IN LOVE
Subscription boxes for couples are a perfect idea to gift something exceptional instead of figuring out what each individual likes and getting a separate gift. In addition, a subscription box for couples is a good idea when it comes to strengthening the relationship between two individuals.
Subscription boxes for couples are perfect for those who have friends who just got married or are in love with each other, and you want to make sure to find the ideal present that fits them both, without preferring one instead of another. A box is a surprise, and they can use it together to strengthen their relationship.
Let's see the best options and the latest curiosity about boxes intended for couples.
"This blog is readers-supported, and this post contains affiliate links, which means I will make a commission at no extra cost to you should you click through and make a purchase. "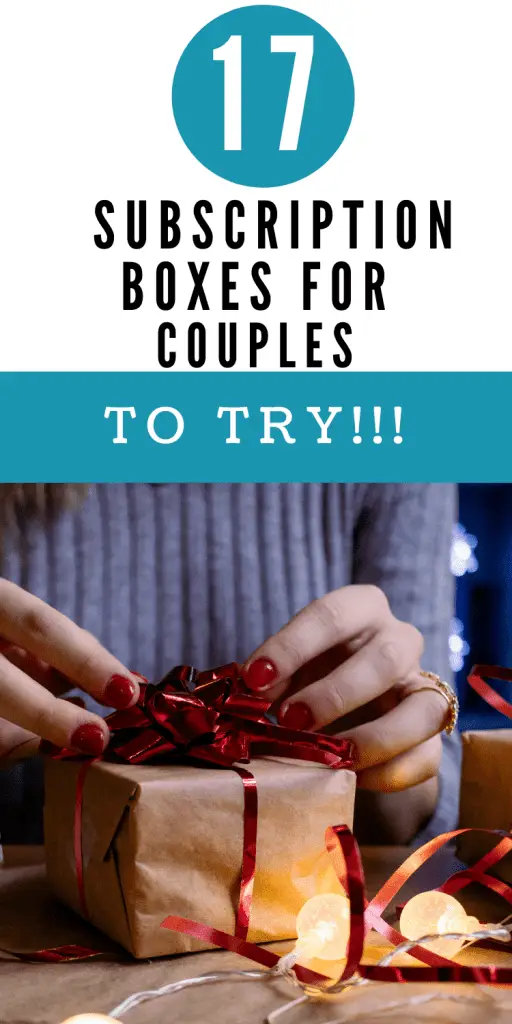 WHY GIFTING SUBSCRIPTION BOXES FOR COUPLES?
Did it ever happen to you to have a friend who fell in love? If so, you have seen that it is impossible to have her (or him) separate from the loved one, and you have to include their sweet half in anything. So, for example, if you give a present to your friend, you also have to get one for the loved one, for good manners.
Sometimes, you do not even know their loved one that well. So finding a good present can be difficult. The couple's subscription boxes are a way to gift something original that will not leave out anyone, but at the same time, make them both happy.
But couples subscription boxes are also an excellent idea for anyone who wants to surprise the partner each month with a new activity or a new surprise. They can use the box to spend additional time with each other, enjoy the wonder and have some fun at the same time.
Subscription boxes are perfect for couples at every time of the year, not only Christmas. We have selected the most popular and the most surprising couple's subscription boxes below.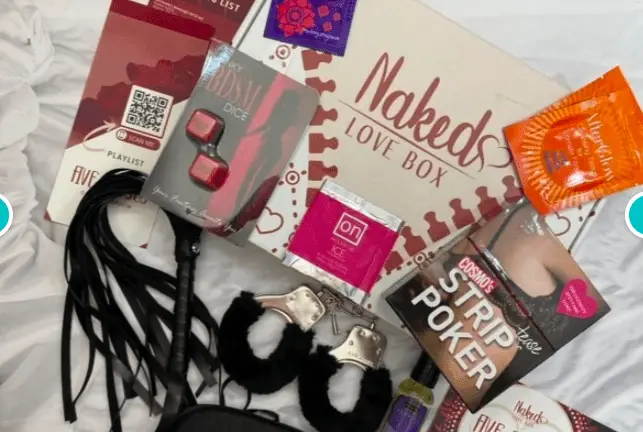 If you have friends that like to spend time with each other and invest in their relationship, this box is for them. The packages introduce the couple that brings the importance of communication and move further into dates, ideas, and even sex. The purpose is to have the couple spend some quality time. In addition, it is possible to find games, body products, and more.
It contains:
High-quality products selected carefully
4-8 full-size products plus a few samples to try out
Interactive bonding activity + games and resources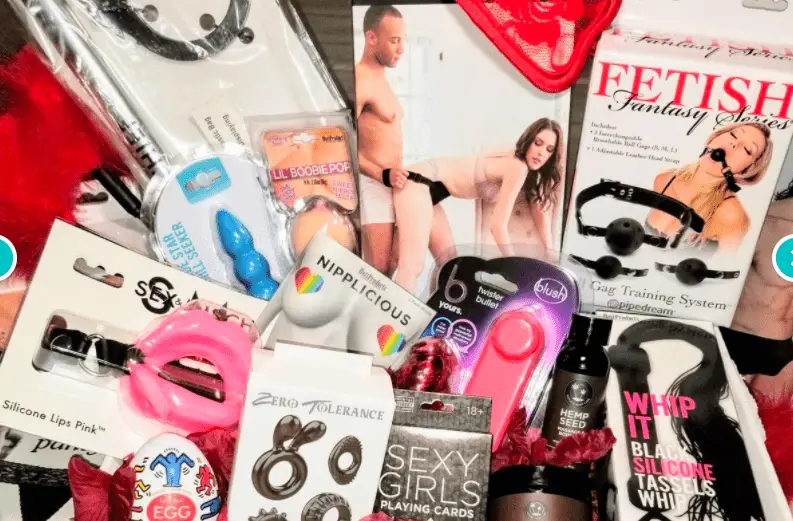 This monthly box has everything covered, such as intimate products and brilliant recipes, and dry ingredients to start the evening in the best way possible. Each box is enormous and contains at least four intimate products. You can expect anything in those boxes, such as decadent dessert recipes, apparel, and sex toys ( plugs, dildos, stimulators, etc.).
It contains:
Intimate products themed for a date night
A dew date experience with every box to make sure you never get bored
Dessert recipes
High quality ingredients
Themed boxes for occasions such birthdays and anniversaries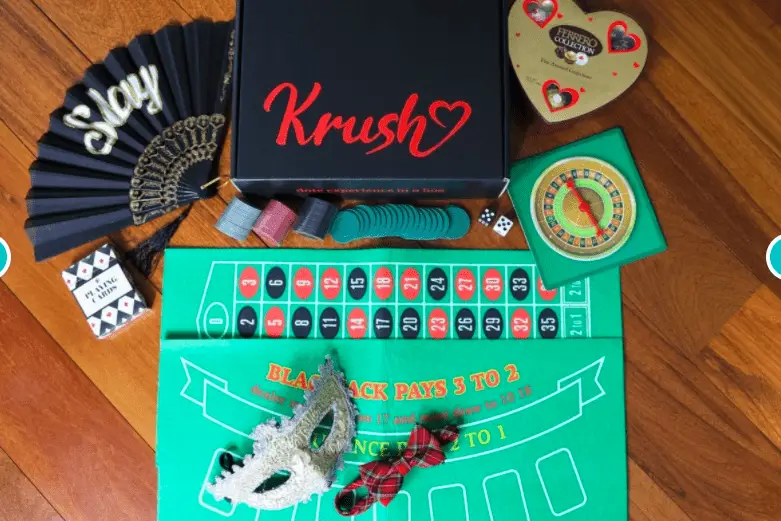 Do you want to have a date once in a while, different and creative? Krush is a box created purposely for those who want to spend a night with each other having some fun, and learn to know the person in front of you. It is all about connection and spending time together. The box has new things every month, including hobbies, art and karaoke, camp kits, massage kits, and more.
It includes:
New sate night theme with each box and 5-8 Fun Items
Conversation starters to get you to talk and connect
Fun experiences with each box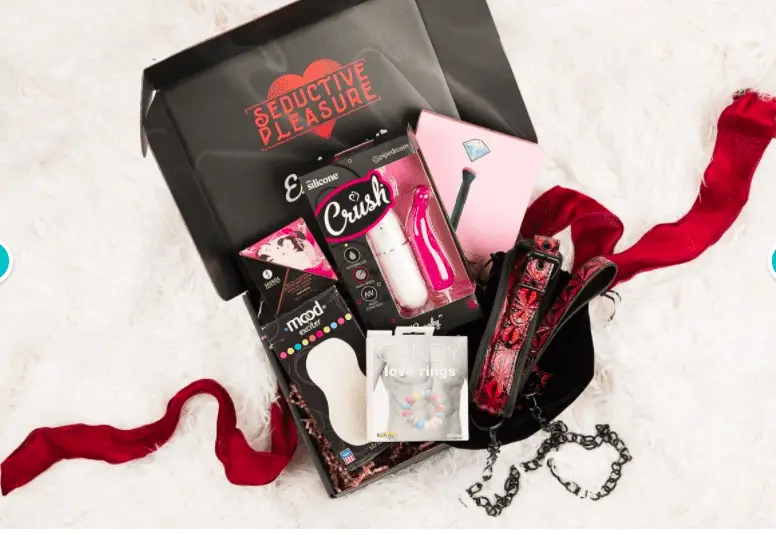 Whether you want to gift it to someone or simply for you and your partner, this box is perfect for adding a bit of spice and novelty to the relationship. This is an adult subscription box for couples who want to explore their limits and experience pleasure.
It includes:
1-2 new toys each month
Different products each month, no samples
50% off retail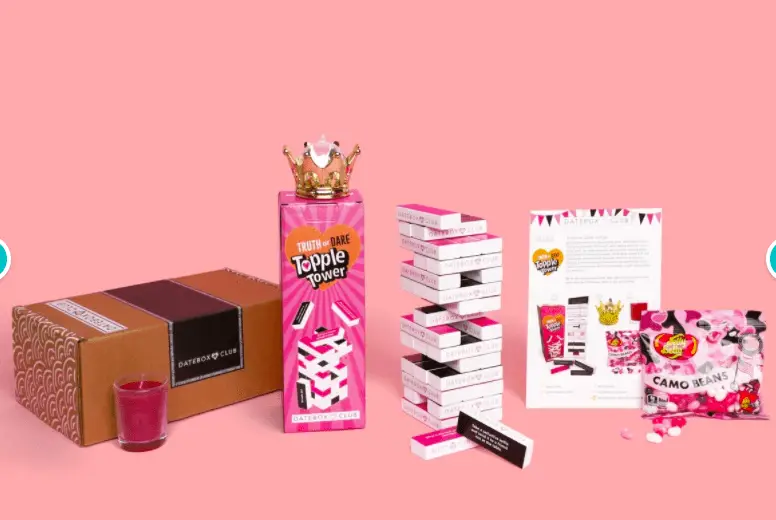 Do you like having dates often or at specific times during the week or month? It is challenging to plan engaging dates every time, but the date box club can help. They are designed to make people have fun and connect during the meeting. There is a theme for every box, and everything is already pre-established.
It includes:
Every box has a beautiful instruction card
It includes everything, even a play list.
Remove the stress of planning
Every date night box is beautifully crafted
Perfect for weddings, anniversaries and anyone else looking for some quality time together.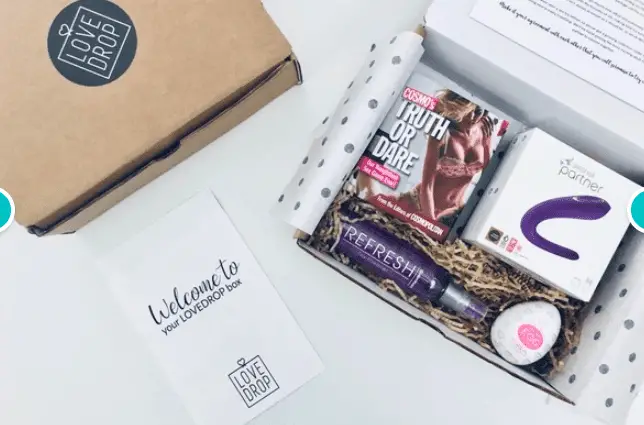 This box provides an excellent and uncommon dating experience. It is purposely intended for hot dates. It comprises toys, games, and planned activities to bring the partners together sexually and experience new things. It is designed for those who are planning new experiences.
It includes:
Bi – Monthly Box for Busy Adults.
Featuring top educators, tips, and creative writings
Lingerie option in O/S and O/S Queen
5 or more designer body safe sexual health products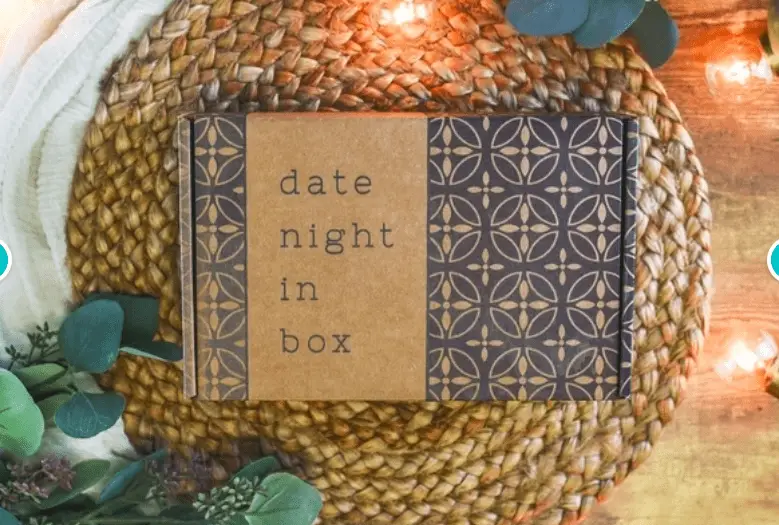 Those who want to enjoy a date in the name of faith can count on this box. Every box is curated to deliver a complete date night full of activities, snacks, music, dinner menus, and all the needed accessories to create an ambiance.
It includes:
Each box contains several activities with all the items needed
Included devotional faith guide
Uniquely curated themes each month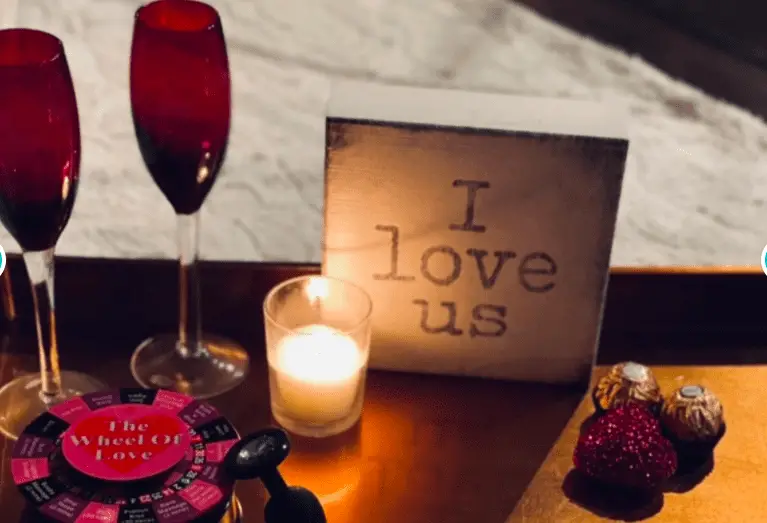 Lovers edition box is precisely what its name declares. It is a lover's box inspired by dates and occurrences such as Valentine's day and similar occasions. The box will surprise subscribers with sexy lingerie, toys, couple's games, and more. It is always something new to stimulate desire.
It includes:
Luxe Lingerie
Every box delivered in discreet packaging
Theme-inspired monthly and quarterly curations
Special edition boxes and HB kits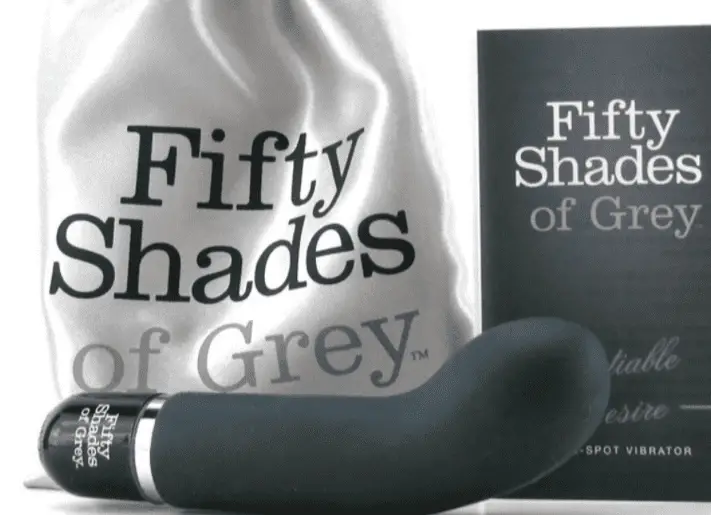 50 Shades Of Hauteness is inspired by the famous book and film "50 shades of gray". So if you are a couple that wants to experience some of the emotions felt by the main characters, this box can surprise you every month. The box is made of a selection of curated items, and it is planned to be a hot, steamy, erotic, and sexy experience.
It includes:
sexy lingerie
bedroom toys
lubes
stimulating games
Theme-inspired monthly and quarterly custom curated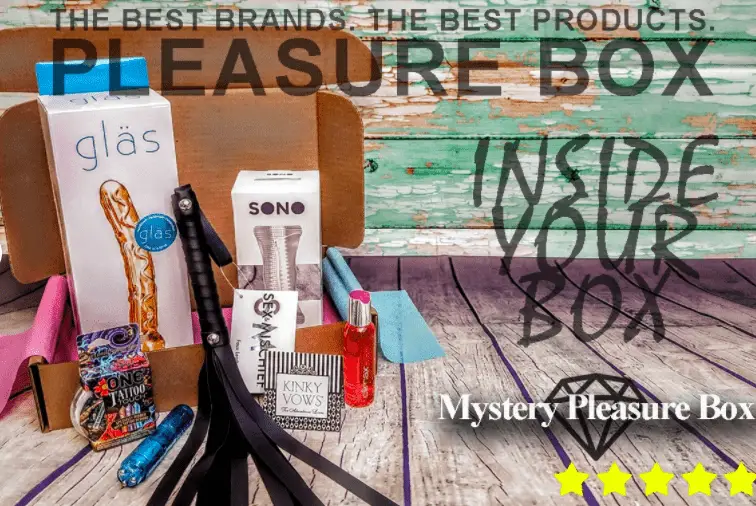 This box is indicated for those who want to gift something out of the ordinary and purposely provocative. It is made to surprise and give new ideas for a hot date or night with a partner. It is one of the most requested and gifted boxes.
It includes:
40% off on toys and materials
Only branded products
DISCREET SHIPPING
Different box sizes and choises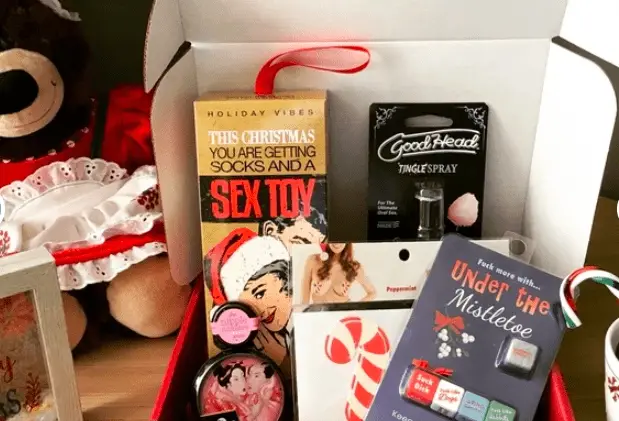 It is a perfect gift for couples who want to create more intimacy. It is directed to walk you through making the best dating experience and foreplay using romance with your partner. There are tons of pleasure objects included in the box. Every month is a surprise.
It includes:
Products to heighten her passion and her pleasure.
Kissable products to enlighten the slightest touch to make her feel incredibly erotic and sensual.
Turn pain into pleasure
Unleash your sensual power through Massage Oils and Creams
Exotic Massage Candles that melt's down into a massage oil
It is a great box to get dates and activities ideas all year long. It is hard to keep the novelty in a relationship; this box helps create activities the entire year and find new ways to spend quality time with a partner. In addition, it helps focus on the more positive and spontaneous parts of the relationship.
It includes:
It's like a couple's calendar for a whole year that includes 52 Idea cards and 52 Extra cards. One can draw a new idea card once a week.
The Idea Cards you will find fun and romantic stay at home date night ideas and conversation starters. The cards are divided into three categories: Talk, Explore and Enjoy.
The extra cards complement the idea cards with additional instructions, fun suggestions or helpful tips.
It is another excellent box that found an original way to make couples spend some quality time and bond simultaneously. It is a box that includes a bedroom game to be done after a romantic date.
It includes:
This is a card game that will keep date nights exciting.
This game is based on the classic "Battleship" game rules, upgraded with fun activities.
Activities are visualized with illustrations and describing text
No cards are mandatory, so you can take things at your own pace.
It is an excellent present for any sort of couple. Whether a new one or a seasoned couple. It can help make a relationship more solid and get creative on spending some time together. One can create a love night, fun dates, or reconnection appointments.
It includes:
It is specifically designed with laughter in mind to let couples reconnect through joy and grow.
Everything you need for your date night comes in the box, ready to go.
It provides hours of quality time together for under $40.
15. THE COUPLE'S BUCKET LIST
The Couple's Bucket List is always an entertaining box to gift or to use in your relationship. It has over 100 date night ideas. Even those who have tried already anything will have new ideas to create quality time with each other. There are tons of activities a couple can do even with little resources.
It includes:
100 Unique Date Night Ideas. Spice up quality time with your partner. Each deck includes tasks and activities that aren't too difficult and expensive to do.
From celebrating a year of dating to 25th wedding anniversaries, these couples gifts help elevate the fun and excitement
Unique Christmas Gift for Couples . It turns dull days at home into extraordinary moments with the love of your life.
The box contains different relationship questions, so you can get to know your partner on a more intimate level.
Adventure Kits for Couples
CONCLUSION
Being in a relationship is not always easy. A couple of subscription boxes can help to add some creativity to the relationship. It is also a perfect gift for friends with a loved one.
Read also: 22 BEST CHILDREN'S BOOK SUBSCRIPTION BOXES TO DISCOVER