31+ BEST WHITE ELEPHANT GIFTS UNDER $10 OR VERY CLOSE
Are you looking for ideas for white elephant gifts under $10? Often when we want to buy a present, we need ideas to get something original, instead of the usual presents. Even if cheap, we still want to surprise the receiver.
A white elephant gift exchange is a different and fun way to give gifts to your family and friends for the holiday season. Rather than drawing names or getting gifts for everyone, you can buy one gift for the game, and everyone will take turns choosing a gift or stealing someone else's.
There are plenty of inexpensive white elephant gifts under $10 out there that everyone will love. Here are just a few ideas.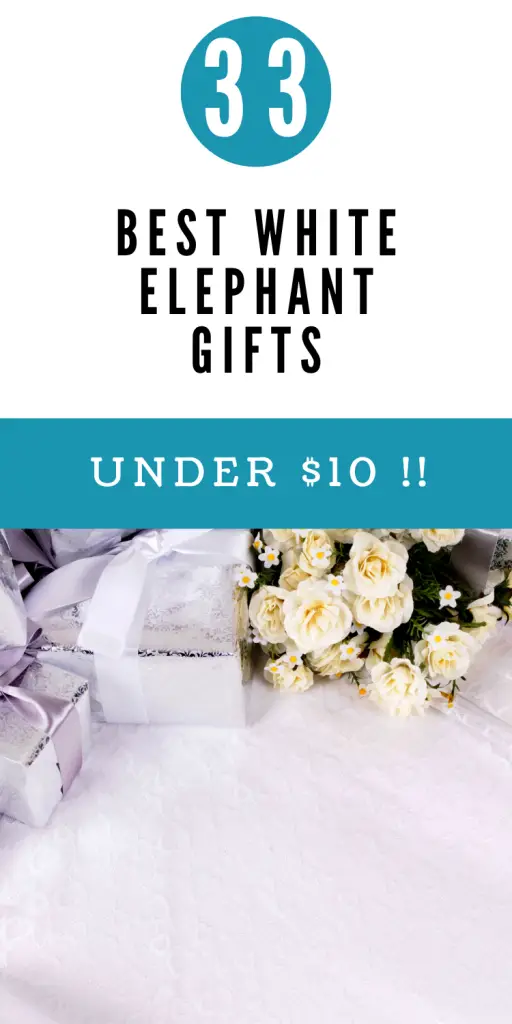 WHITE ELEPHANT GIFTS IDEAS UNDER $10
If you need some clever ideas for white elephant gifts, here are some excellent ideas for you:
You can purchase this mini waffle maker at various stores, such as Target, for $10 or under. This is a perfect gift for the people in your life who love to cook and whip up a special breakfast from time to time. 
This foot massager is another perfect addition to our list of white elephant gifts under $10. You can find this gift on Amazon for around $9.95. People who are on their feet all day will love this gift! 
Perfect for a group full of travelers, this silk sleeping mask can be found on Amazon for just under $9. The silky sleep mask perfectly blocks out all light so you can get an uninterrupted night's rest.
These cloths make the perfect gift for any white elephant gift exchange. They easily remove makeup without irritating your eyes or your skin, and the best part is that they are reusable. You can throw them into the washer and dryer and make them as good as new. You can find these on Amazon for under $10. 
Rubber wine stoppers are a great idea for wine lovers. They do an excellent job of corking up your wine bottle so you can enjoy the wine again tomorrow. Find these in multiple locations online for under $10. 
Perfect for the cold winters, fuzzy socks are a great idea for any white elephant exchange. These socks come in a variety of fun colors so that you can choose your favorite. So your friends and family will have warm feet all winter long! Find these socks on Amazon.
We all know someone obsessed with taking care of their skin. Skincare products make great white elephant gifts and can readily be found for under $10. This body polish from Dove would make an excellent gift for just about anyone! 
Almost everyone loves a great-smelling candle they can burn to make their home smell warm and inviting. Candles make the perfect gift and are able to be purchased in many different places online and in person.
This set of two aromatherapy candles from Amazon is under $10 and will be sure to be a crowd-pleaser at your holiday get-together. 
Everyone has a desk with pens, papers, and a phone. However, things can get messy if they are not kept in a proper way. A funny organizer is an excellent way to make someone laugh and keep things orderly.
If you are unsure what to gift, the Burt's Bees set includes a bit of everything. It has products to take care of the face, foot, hands, and more. It is perfect for bringing during a trip and for many other uses. Most people will appreciate such a present.
This is a special gift for people with a greater sense of humor. The book in itself is "useless," but it is hilarious and can make other people laugh. They will appreciate the thought and the gift.
It is a funny yet practical gift. The light comes in many colors, and a motion sensor activates it. It is an excellent gift for people who can make their bathroom a little bit more interesting. It is cheap but a lovely gift.
The ice ball maker is another funny present that can be gifted to anyone. It makes the perfect ice ball for any drink. It is practical, and it could fit the preferences of many people. In addition, the tray is made of silicon and will not crack easily.
A special night light is a nice gift for everyone. A 3D illusion light is remarkable to have on a nightstand, and despite it is not an expensive gift, it can still be impressive. This gift is not going to go unnoticed.
Amazon gift cards are very common gifts. Nearly anyone appreciates an Amazon card because it is a platform used to buy things by virtually everybody. Furthermore, it is possible to find any type of object on Amazon, so it is difficult to disappoint anyone.
This booklet is completely useless unless you want to make other people happy or spend a moment carefree. It is a perfect white elephant gift for under $10. Everyone can find the jokes funny or at least be intrigued by the book.
A T-shirt with a memorable sign can be a good idea for a white elephant gift. It can be something funny to wear but also a way to send a message to others. For example, the T-Shirt with the inscription "Self-proclaimed Genius" is funny and send and cocky at the same time.
A friendship sign is a nice thought. It is not the money or how much the present costs; it is the concept behind the gift. It is a present that fits many situations. It can be a white elephant gift but also a birthday gift.
A bracelet is something nice that others can use on different occasions. Although you can find bracelets for under $10, it is possible to find a nice one, and some are even great looking.
Pants are not an extraordinary gift. However, they can serve a purpose. If you want to gift useful items, pants are perfect. For less than $10, one can wear comfortable pants for a while.
This is an excellent idea for a white elephant gift or a gift exchange. It is a funny way to track passwords. Today there is a password for everything; frankly, it is impossible to remember them all. So this is a funny solution.
A key chain with something funny or memorable written on it is always a good present. Keychains are easy to find, and you can use your imagination to get an original piece.
A home spa is an excellent and relaxing present for women. This particular box has different scents (Eucalyptus, Pear, Lemongrass, Watermelon, Grape, Coconut, Orange). The package is nice looking, and each bath product is perfect for a pleasant and relaxing bath.
How to say no to a coffee mug? So many people drink coffee, and it is even better if it is a funny one. In addition, a coffee mug can also be used for tea and to drink any other liquid.
Nothing is better than a mini punching bag to relieve stress. Work and daily life can create a lot of stress, and instead of taking it out on people, it is better to use this small present.
A lovely old baseball cap can do the trick when everything else fails. In addition, those caps can come with many funny citations, colors, and sizes. This is why they are perfect for a gift exchange party.
Well, everyone goes to the bathroom, and if you think about it, it is a lot of time that goes without doing anything….. this is a funny present that will keep people entertained and busy during those private moments. It includes funny facts, puzzles, and more.
A jewelry dish is a useful yet nice thought, especially if it is a funny or inspiring inscription. The dish can serve many other purposes, such as collecting makeup, money, and other small objects.
This is a diary or a journal that you can use as a prank or a funny gift. Surely it will keep people entertained. It is also helpful and definitely different from other types of gifts.
This is a set of three cosmetic bags for different occasions such as travel, home, or other necessities. Each bag is nicely made with a nice inscription and it is worth the money and the thought.
Socks can make your feet look like paws. This is a funny gift that will delight other people. One can wear socks for necessity and at the same time have some fun.
30.
Who doesn't need a money clip? It can be an original idea for a present, especially if something funny is written on it. But unfortunately, this particular gift comes with a unique package that makes it look more expensive.
You cannot miss a funny cat pillowcase in your catalog of white elephant gifts. It is a simple yet funny present, especially for those that have pets.
FREQUENTLY ASKED QUESTIONS
Read also: 16+ BEST HIKING SUBSCRIPTION BOXES FOR OUTDOORS LOVERS
CONCLUSION
There is no shortage of excellent and affordable white elephant gifts under $10. With some research, you can find the perfect gift that everyone will love and want to fight over at the next gift exchange party you have.