16+ BEST HIKING SUBSCRIPTION BOXES FOR OUTDOORS LOVERS
Would you like to know what the best hiking subscription boxes are? So many people love outdoor activities, and hiking subscription boxes are the perfect gift for them and yourself if you love to go on adventures.
A hiking subscription box should contain essential items when going outdoors, such as first aid kits, knives, other vital tools, food, navigation tools, and instructions to help a person become better when hiking (for example, how to read a map, etc.).
Here is a collection of the best hiking subscription boxes.
"This blog is readers-supported, and this post contains affiliate links, which means I will make a commission at no extra cost to you should you click through and make a purchase. "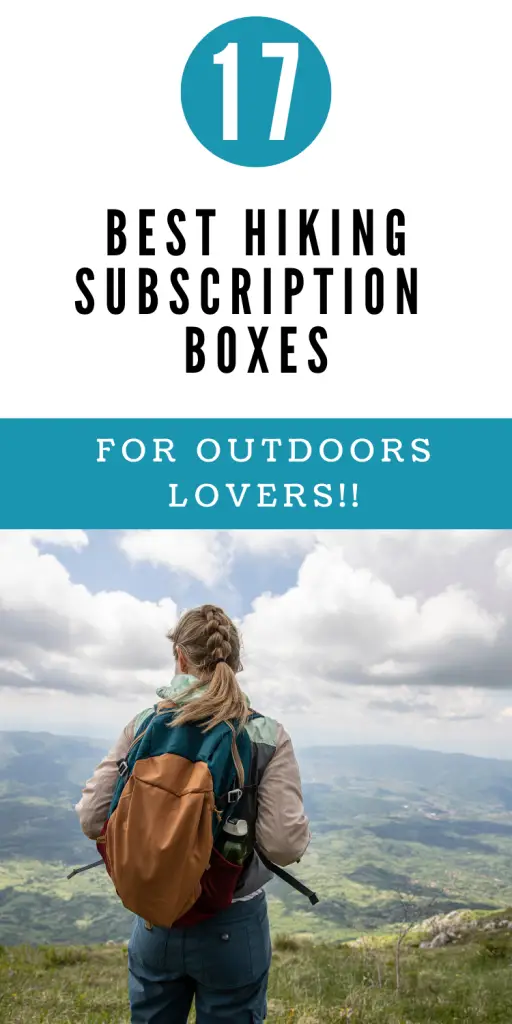 WHY GIFT HIKING SUBSCRIPTION BOXES?
In general, hiking is an activity that involves walking long distances in the countryside or following pathways on a mountain. People that love this activity like to be in contact with nature and exercise.
At times it might be challenging to find a present for those that like hiking, but with a subscription box, you can resolve the problem because there is someone responsible for surprising the receiver every month with appropriate items.
Even if you do not know much about hiking with a subscription box, there is nothing to worry about. While if the box is for yourself, you will be surprised with new things you need for your adventures.
They are also perfect gifts for those who want to start hiking and learn how to do it.
Here is our selection of the best hiking subscription boxes: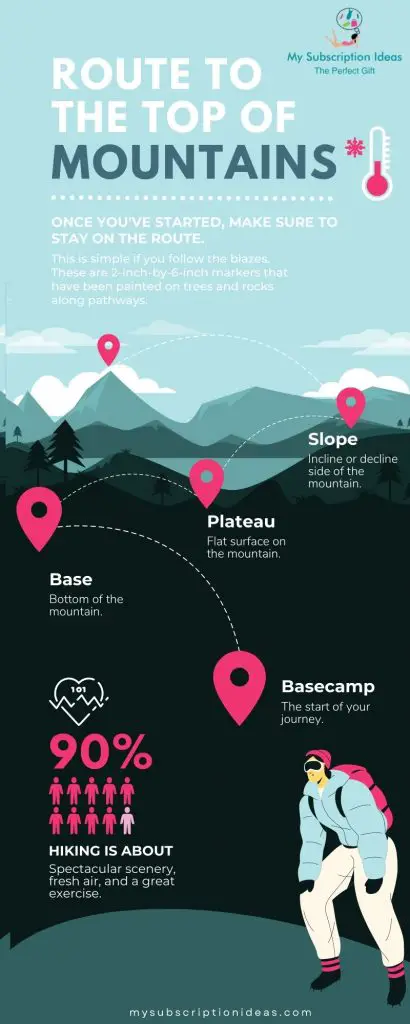 The Hiker Crate is a subscription box that comes in different sizes to adjust to the number of outdoor adventures of the receiver.
It is filled with high-quality items essential during long walks, such as snacks, various tools, and hiking gear. It is a simple and essential box for hikers and is perfect for beginners and experienced people.
It includes:
2 to 3 unique gear items
Healthy snacks to carry in your adventure
Access to various outdoor companies
Recent buyers have posted great reviews
While many like hiking, not all of them use an RV during their adventures. This is a perfect box for those that like an RV lifestyle. Also, it is a quarterly box, so ideal for those that use the RV once in a while or when the weather is suitable.
It includes:
High-quality products for RVs
Seasonal gear for camping
Consumable items
Every box contains new ideas for your camping activities
The Outdoor Essential crate is a box that includes high-quality hiking and outdoor items such as backpacks and clothing pieces necessary for outdoor adventures. The box can be ordered in various sizes, and there is even an extra-large crate for outdoor lovers.
It includes:
Tools
Camp lights
Dry bags
Energy snacks
Clothing items
Eating tools
The Mystery Club box is for kids that love adventures but…. to be done indoors! For kids who want to become good at solving mysteries and prepare themselves for many future outdoor adventures.
The box contains a mystery to be solved; thus, there are clues to follow and an intriguing story. The crate is great for stimulating the imagination of every child. Recommended age is 6 to 12 years.
It includes:
A mystery to resolve for every box
Every box has clues, characters, and stories
The Adventure Box is a perfect present for those who love hiking and spending time outdoor. It includes many essential items for long trips outside. The box receivers have all the necessary energy sources to walk long distances.
But, there are also usable and edible items.
It includes:
A mystery box f
Usable items
Clothes
Food
Inspirational products
This box is specifically created for women who like adventures and outdoor life. It includes everything a person might need during a long walk. You can get snacks, gears, body products, inspiration items, and more.
It includes:
Body Products are entirely natural
Inspirational Items
Outdoor Gear
Snacks
Guides and tools
If you are unsure which box to gift or which one is good for you, the Monthly Outdoor Box is perfect for everyone. The items in the box are perfect for those who like hiking, camping, walking, RVing, or just walking.
There are items included even for those going out fishing or hunting. The boxes are sent with appropriate items depending on the season.
It includes:
4 to 6 items

Hunting items
Fishing items
Hiking items
Camping items
Cairn has been a pretty established box on the market for several years. However, it always includes new items just released on the market and has a lot of products necessary for hikers and outdoor enthusiasts.
It includes:
Items to stay hydrated
Snacks
Clothing items
Outdoors necessary tools
Bottles
Various tools
The BattlBox is full of survival tools and items perfect for surviving outdoors. It is suited for people going on various outdoor adventures such as excursions, hiking, walking, camping, and more.
The items included in the box are very useful for beginners and also for outdoor enthusiasts and experts. Every month you receive the necessary to survive outdoors.
It includes:
Manuals
Survival tools
First-aid supplies
Food rations
Snacks
Outdoor gears
A mission every month
This box is for those who want to take outdoor activities to the next level. It is a crate fully packed with high-quality survival items. The survival items are the best of their kind for durability and usability.
It includes:
Up to 9 items per box
Paracord survival bracelet and similar
Tactical desert scarf and similar
Tactical shooter gloves and similar
Beej jerky
Many premium items for survival
This subscription box can help people in their outdoor adventures have all the necessary nutrients to walk and stay out in nature for days. It is good to have the items in the box when hiking, to camp, and on other adventures.
It includes:
Up to 6 meat packs (total 20 to 32 oz)
It includes a meat-eater's handbook
All meats are shelf-stable and don't require refrigeration
This is another box that is meant to provide energy on outdoor trips. It is not only suited for the meat lover but also for those who travel and need a snack to keep going.
The meat in the box is not easy to find in stores, but it is carefully selected from regional producers.
It includes:
3 Bags or 5 Bags or Bags
Beef jerky brands from the USA
This is a box for hikers. It is meant to increase the knowledge of locations suitable for hiking and the understanding of it in general. It includes a lot of general information about the NK forests and nature.
It includes:
NJ forests data
forest info cards
Maps
Plant ID cards
Hiking and nature accessories
Enthusiastic hikers can benefit from the Fun Run Box. It has a lot of items that help runners to get going and can help hikers find additional energy to reach their goals. In addition, the box is meant to inspire and provide valuable items to use in the hiking journey.
It includes:
Running gears
Goodies
Apparel

Monthly challenge

s
Member-only discounts
Mountain lovers and hikers can benefit from the Mountain Hunter box. It is a crate packed with camping, survival, and hunting objects. It allows the receiver to leave the outdoor life enjoying new useful items every month.
It includes:
3 to 5 items
Lightweight and packable gear
Hunting and mountain items
Finally, those liking outdoor life who want to be prepared with everything cannot miss the Steel To Reel Club box. It is packed with preparedness and survival item to enjoy in full your experience in nature.
If you run into difficult circumstances, you want to have the items in this box.
It includes:
Survival gears, new items every month
Any kind of items to complete your collection of survival gears
Read also: 19+ BEST ECO-FRIENDLY SUBSCRIPTION BOXES TO DISCOVER