17+ BEST BRIDAL SUBSCRIPTION BOXES TO MAKE HER SHINE
Are you looking for the best bridal subscription boxes worth your money? Marriage day is supposed to be one of the best days in a girl's life. So there is nothing better than a bit of pampering to arrive on that day in the best shape possible.
A bridal subscription box contains valuable things for wedding planning and items to treat and pamper the bride. Typical items included in the package are beauty products, checklists, wedding decor products, clothes, planners, treats, cards, and more.
Here is our collection of the best bridal subscription boxes.
"This blog is readers-supported, and this post contains affiliate links, which means I will make a commission at no extra cost to you should you click through and make a purchase."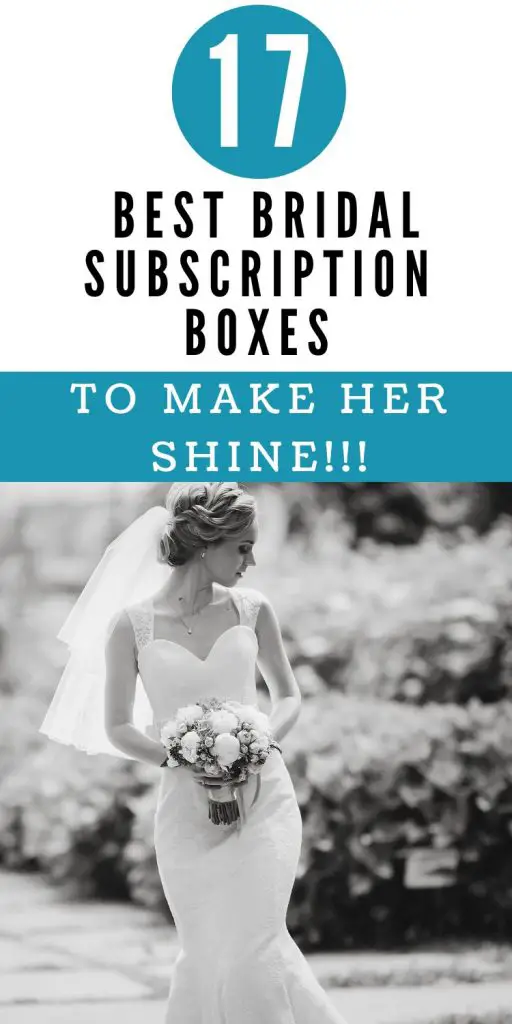 WHY GIFT BRIDAL SUBSCRIPTION BOXES?
The days or weeks before the marriage can be very stressful; there are many things to prepare for and think of. So naturally, the bride tries to arrive fit and in the best shape on that day.
In addition, those days should be filled with enthusiasm and trepidation, waiting for the big day. A subscription box is a way to create a nice atmosphere and add to the excitement for the preparation.
Many people do not know what to gift to a future bride, and a subscription box can come to rescue you since more prepared people in the matter are responsible for putting together the crate.
Finally, if you are the one getting married, a bride subscription box is the perfect treat, with both practical and pampering items.
Here is our selection of the best bride subscription boxes: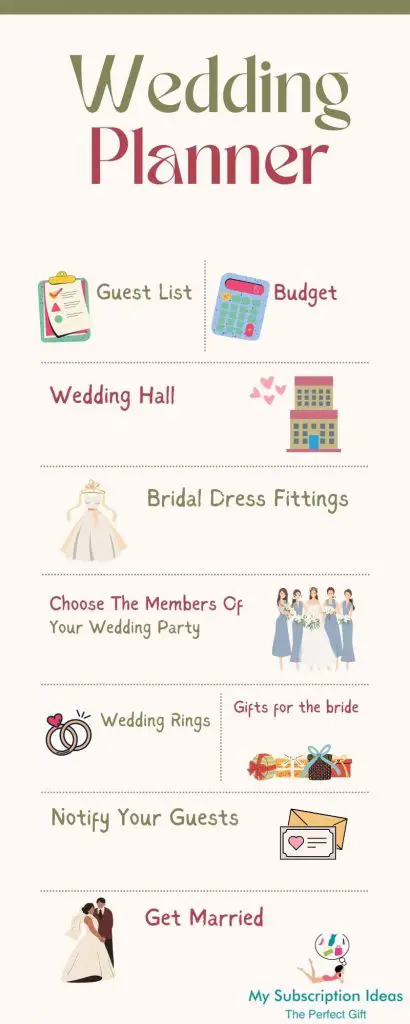 Club Cuvée is a perfect box to celebrate the marriage. It ides high-end and high-quality wines. It is an ideal present for the bride and for the future husband. It is possible to select the box with the flavors you like or preferred by the person you are gifting it to.
It includes:
Exclusively wines
Hand-picked bottles
Laguna box is a luxury skincare complete treatment. It is one of the best gifts for a bride to arrive in shape and with velvety skin on the day of marriage. Each product is carefully selected from the best Italian brands.
The products are organic and made with top-quality ingredients. The main objective of the box is to detox and nourish the skin.
It includes:
Nourishing skincare products for every type of skin
High-quality products
Eco-friendly
Cruelty-free
Organic products
No chemicals
All products are Italian and with the best organic ingredients
If you want to arrive at the wedding date more beautiful than even, then the White Carpet Ready Box is what you need. It is essentially a beauty planner and provides new things to do every month to improve different aspects, such as skin care, hair care, general wellness, and more.
It includes:
Luxury Skincare products
Wellness and Beauty products
5-7 Products
The Paisley Box is for brides to help them celebrate every step of the journey. Every item in the box is carefully designed and provides beneficial things to support the wedding preparations. There are gadgets, clothes, and treats.
It includes:
Wedding theme gifts
4 to 6 products
Trendy bridal products
If you or your friends like Chanel items, this box can help to add quality to the makeup and enhance the bride's beauty. The box also includes other brands, such as Moschino and Prada, filled with bags, accessories, cosmetics, and more.
It includes:
Gifts from Chanel,
YSL
Prada
Dior
Moschino
Gucci, and more
Makeup pouches
Bags
Totes
Stationery
Jewelry
Luggage
Makeup
Shoes
Shirts
Accessories

Cosmetics

M

irrors

Combs

Brushes

P

ens

Jewelry cases

Jewelry

Hair accessories

Wash clothes

And more
The Ultimate Box is a tempting present for the soon-to-be bride. It contains top-quality lingerie, creatively designed and stylish.
It includes:
Sexy lingerie
New underwear designs with each box
Bombay & Cedar is a box centered on beauty, wellness, aromatherapy, and lifestyle. It can include any type of items for skin care, body care, gourmet, and even home décor. It is entirely designed for a woman that wants to take care of herself and get in the best shape.
It includes:
Skin care products
Home goods
Books
Snacks
Parfumes
Gadgets
Aromatherapy products
And more
The Krush box is perfect for those who want to spice things up before the big day. It is a box designed to make an ordinary night into something fun and different. It is a gift to make a couple spend time together and build up a connection.
It is possible to try new hobbies and new activities with a new theme every month.
It includes:
New theme every month
It might include things such as art & karaoke, massage & camp kits, and more
5-8 Fun Items
Preparing for a wedding requires a lot of planning and organizing and getting many things done simultaneously. A future bride could benefit from the Journal Box subscription. It is a perfect way to keep motivated and plan everything out with style.
Every month new items and things to keep your interest and purpose high.
It includes:
Journaling prompts
Beautiful stationery
Japanese pens
Washi tapes
Markers
Paper clips
Beautiful workspace accessories
Accessories can always be helpful to enhance appearance. A fashionable accessories box can be really useful for a future bride and to have some new top quality stylish items for the honeymoon.
It includes:
Beaty items
New accessories every month
Shirts
Sweaters
Dresses
Skirts
Outerwear
Trendy fashion accessories
This is a naughty and stimulating box that helps enhance and spice up the sex life of a couple. It is a gift for a future bride who wants to build up a personal collection of lingerie. It will provide new stylish products every month.
It includes:
New sexy boudoirs every month
Always new styles
Premium high-quality products
The Jewelry box is a perfect gift to renew and add new items to the wardrobe. Jewelry can enhance anyone's appearance and make people look more sophisticated. For example, a new bride can benefit from adding new items to her jewelry collection. A new piece every day to surprise him and others!
You can choose the size of the box and how many jewelry pieces you want in it.
It includes:
Three pieces of designer jewelry
A bonus item with every box
Retail value up to $250
Complimentary jewelry box and jewelry pouch included
Bomibox is a Korean beauty box. It is all about skincare and many other beauty products for the face, body, hair, and more.
It includes:
Authentic Korean Skincare products
Full & deluxe sample
Cult favorite products
Newly launched items, when possible
The weeks and days before a wedding can be stressful, and the Bath Bevy subscription will help release some stress. The box contains bath items that support a future bride to take care of herself and relax.
It includes:
Bath bombs
Bubble bath
Bath salts
Whipped soap scrubs
And more
Kiss Me box is one of the Best Bridal Subscription Boxes because it has a lot to do with the sex life of the couple. It is a different and unique present to gift to someone or yourself. The box focuses on improving and spicing the sex life.
It is filled with products that are meant to increase passion and pleasure.
It includes:
Full-size sex toys
Kissable products that can be used all over the body

Lubricants

Massage oils and creams
Exotic massage candles
Merkaela box is a complete wellness box that provides over-the-top products to improve the overall health and wellness of the receiver. It is a little help to feel better and more relaxed during the planning phase leading to marriage.
It includes:
Herbal products
Wellness products
Meditations products
Ritual products

Bath salts

Handcrafted soaps

Scrubs

Loose Leaf Tea

Meditation Playlist
This box is meant to bring a new spark to the sex life of the couple and renew their interest in it. The package comes every month with new things and ideas to make the couple's nightlife even more exciting.
It includes:
Potions,
Lotions
Sex toys
Bedroom accessories
Sex toys
And more
ARE BRIDAL AND WEDDING SUBSCRIPTION BOXES WORTH IT?
Wedding subscription boxes are worth it if they are a fitting present for someone you know, whether a friend or a family member. They usually follow in the price range of a typical wedding present, and they can be a pleasant surprise for the couple.
But again, it depends on the preferences of the person you are giving the gift to and the quality of the subscription box. It is worth getting a subscription box for a wedding in the following cases:
You don't know what to gift
You find quality products in a box
The gifts are always different and interesting
It is always a surprise
Let's face it if someone gets married, and if we do not know the person well, a specific bride subscription box will resolve the problem for us, and some of the boxes can be really attractive to impress the receiver.
In general, before a wedding, there are tons of things to think about, such as invitations, meals, dresses, and more. Anything that helps a bride of a couple to get through this period is a great present.
Above all, the thought you put into the present is the thing that counts the most.
WHAT DO YOU GIFT SOMEONE FOR A WEDDING?
The typical gift for a wedding can vary depending on the family tradition or the country where the wedding is celebrated. However, there are common things that people buy for weddings, such as things for the house, clothes, bed sheets, various jewelry, cookware, etc.
But if you plan to gift someone to the bride, then anything can be appreciated, such as beauty products, planning items, stress release products, accessories, and other such ideas. But when it comes to presents, you can use as much creativity as needed to surprise the other person.
WHAT ARE THE MOST COMMON GIFT FOR A BRIDE OR A WEDDING?
Over time you can notice that most people select similar gifts for weddings. It doesn't mean you have to buy the same things, but it can give an idea of what is generally being done. You can use this list to create your unique approach and gift.
Here are the most common gifts for weddings:
Read also: 17+ BEST LUXURY SUBSCRIPTION BOXES FOR HIM AND HER
FREQUENTLY ASKED QUESTIONS