22 BEST CHILDREN'S BOOK SUBSCRIPTION BOXES TO DISCOVER
Children's book subscription boxes are perfect for inspiring kids, keeping them busy, and educating them. In this world filled with electronic devices, it is a great idea to provide your kids with picture books or a collection of different types of books. It is good to start earlier and give them healthy habits to stimulate their creation and intelligence.
Children's book subscription boxes are a monthly collection of books put together and shipped to your home. Each box contains children's books on different themes and different types, such as board books, hardcover picture books, or chapter books. It is possible to request boxes for diverse age range.
Let's see what are the best children's book subscription boxes.
"This blog is readers-supported, and this post contains affiliate links, which means I will make a commission at no extra cost to you should you click through and make a purchase."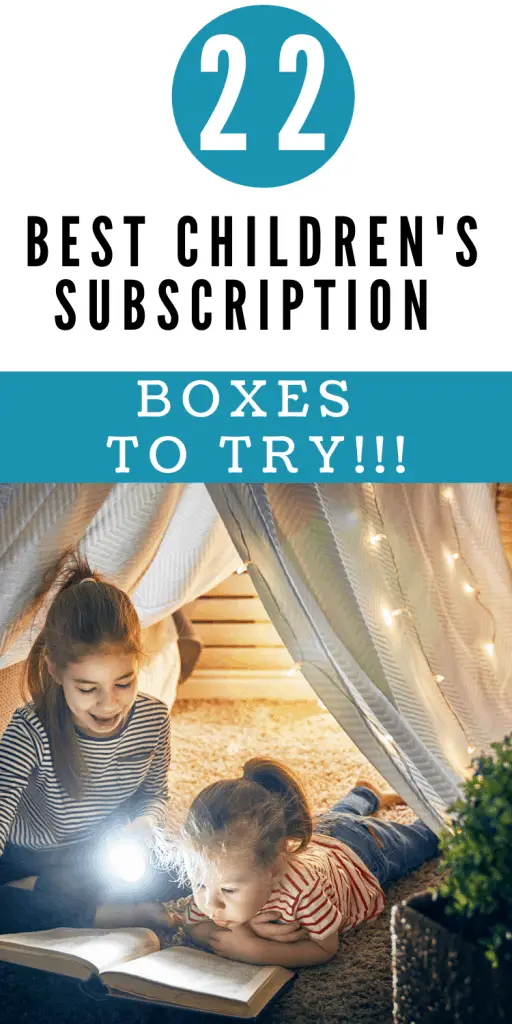 WHY GIFT CHILDREN'S BOOK SUBSCRIPTION BOXES?
Let's face it, children today are into tablets, smartphones, and other devices. Giving them a creative alternative is a must to keep their imagination active and to keep them away (at least for a while) from electronics.
Why books?
It is impossible to overstate the importance of reading, especially for kids. Putting kids on the right path with creative books and encouraging them to read can improve several skills, such as:
Increasing vocabulary
Free up imagination
Develop creativity skills
Develop empathy
A better understanding of the world.
Improve concentration levels
Increased knowledge
It is a great source of entartainment
Better school performance
Those are only a few positive points for good reading habits. But what are we looking for in a children's book subscription box?
Certainly, we are looking for subscription boxes that are creative, entertaining, but educational at the same time. Kids should look at the moment of the box's arrival with great expectation and should not feel bored by the books.
We have selected the most popular kids' subscription boxes and can add the best value to someone's life.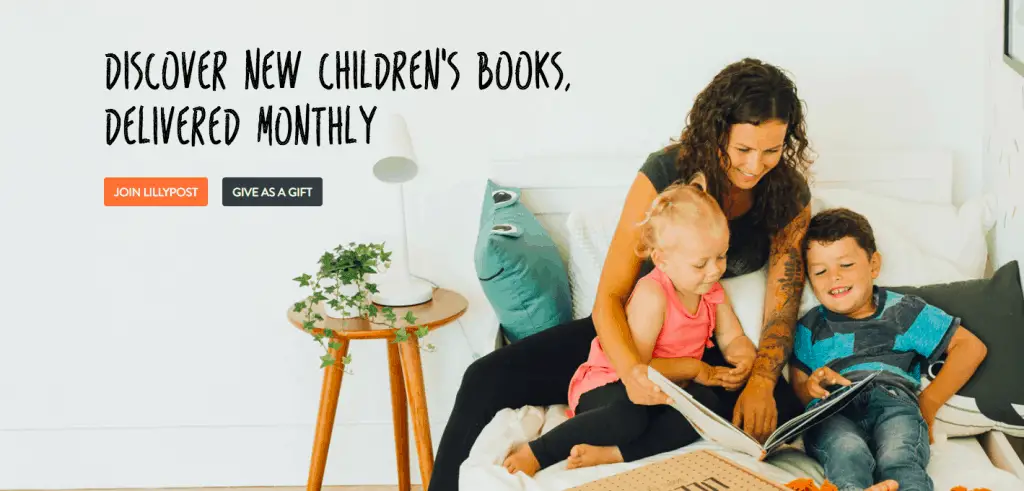 Lillypost delivers books for kids from newborn to seven years old. You can select the age that books you would like, between board books or picture books. You can also select a mix of both. The books are of high quality, and they are wrapped up perfectly. They are so nice that kids have fun unboxing them.
Kids typically love those books, and each subscription contains a different book, even if you are on the subscription for over a year.
Lillypost was created by parents who believe that love for books and learning starts early in life. Lillypost donates a book to a child in need for every box delivered.
It contains:
4 Board Books, Ages 0-3(Also included in this box are lovely stickers of our dancing fox)
2 Picture Books & 1 Board Book, For All Ages
3 Picture Books, Ages 4-7 (adorable nameplate stickers are also included for your child to place on their books)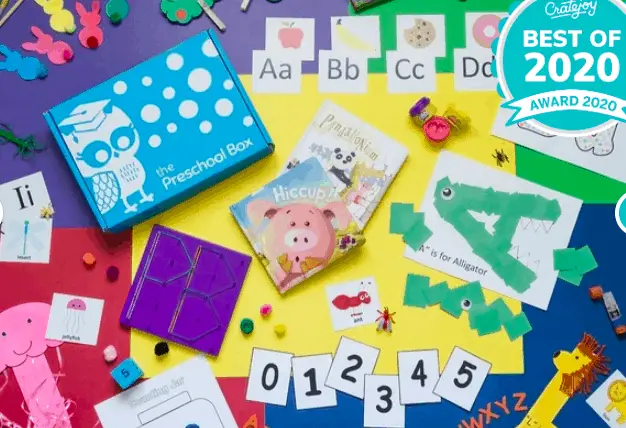 This box is more than just books. It is full of fun and simple activities to make child exited and interested. The box concentrate in helping kids to learn beginning phonics skills, leaning shapes, counting, colors, and writing with hands-on activities and games.
It contains:
Teaches learning, reading, and creativity in children ages 3-6
16+ activities in every box
A Parent Guide to help you teach your child
Crafts, learning activities, and games
A fun book in every box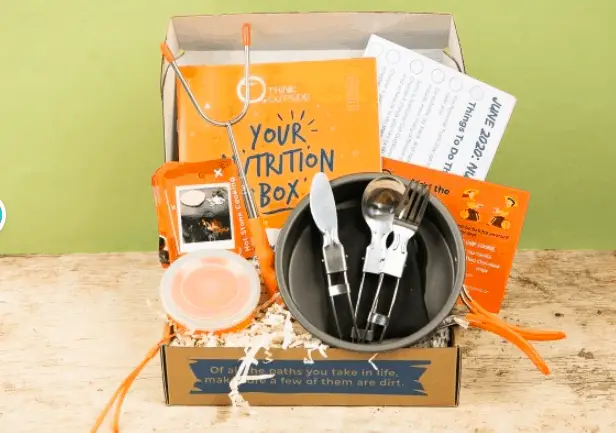 It contains books and booklets about outdoor exploration and survival. It can serve a wide-range of ages starting at 7. Each month there is a new theme, from first aide and nutrition to outdoor shelter.
It is a great box to make children disconnect from screen and electronic devices, have fun and learn.
It contains:
Each box comes with a 28+ page education and activity booklet, resource cards, outdoor challenges, and 3 – 5 pieces of quality gear to add to your child's outdoor pack.
Your first box comes with a lightweight packable daypack your child can use for outdoor adventures.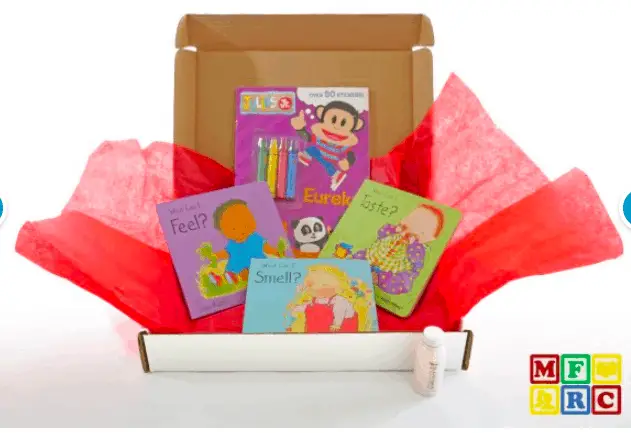 This box is for the following age groups:
Newborns through age 2 Pre-Readers
Fledgling Readers 3 to 5 years old 
Independent Readers 6 to 8 Years Old 
Developing Readers 9 to 10 Years Old 
Preteens Established Readers 11 to 12 Years Old
My First Reading Club box contains high quality books for different range of kids, with a combination of pitcure books or board books depending from the age range selected.
It contains:
5 Distinct Age Groups
Additional Activity Book included in every shipment
A small gift for Mom in every box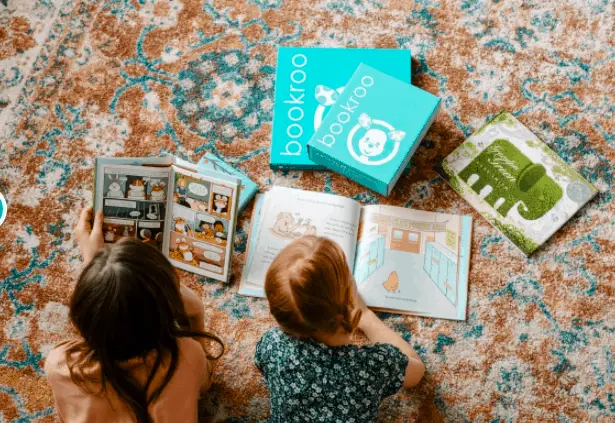 This box is suitable for kids up to 12 years old. It combines the excitement of opening the box with the pleasure of discovering new great books. It is an award-winning subscription program. The books and illustrations are of the utmost quality. This is why kids love books contained in this monthly box.
It contains:
The books arrive in a bright, colorful box, and each book is hand wrapped like a present.
Not only are you getting a premium unboxing experience and discovering new favorite books, but the retail value of the books in these boxes exceeds the subscription cost.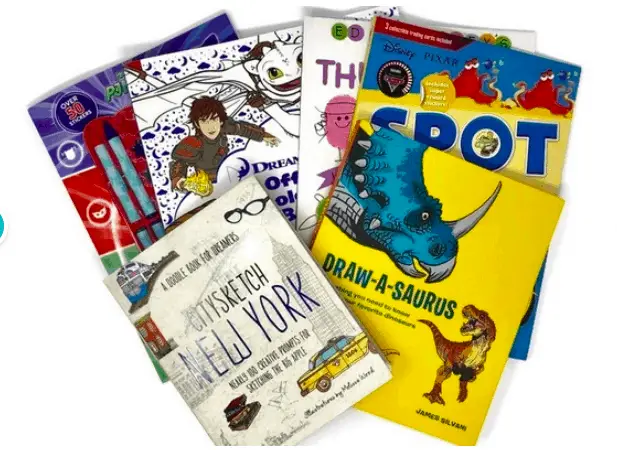 The available age-ranges are:
Newborn through age 2 
Ages 3 to 5 
Ages 6 to 8 
Ages 9 to 10 
Ages 11 to 12
The box is filled with two age-appropriate hardcover books and activity books. The activity books contain big coloring images, puzzles, mazes, and more.
It contains:
Average value per box $35
Ships within 2 business days
High-quality age-appropriate hardcover books and activities from newborn to age 12.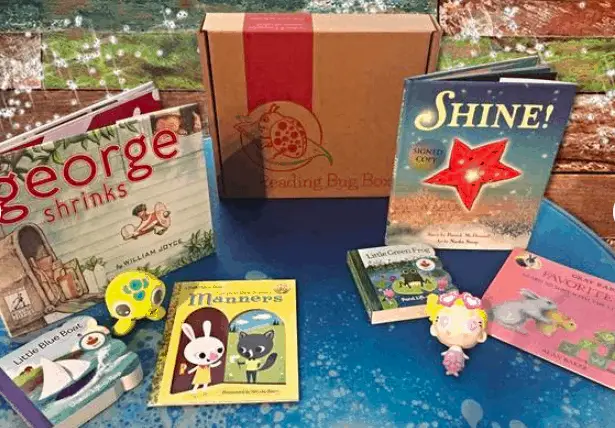 This subscription box can be tailored for every child's age, interest, and reading levels. It can inspire hungry readers or encourage them not so avid readers, and more.
It contains, based on age range:
Baby Bug Box: Recommended for ages 0-30 months. A curated selection of 3 great board books each month.
Reading Bug Box: For ages 0 to 13 years. A personalized selection of 3 or 4 books matched the recipient's age and interests, plus gifts to encourage and inspire.
Reading Bug Box for 2: For ages 0 to 13 years. A personalized Reading Bug Box for two children at the same address.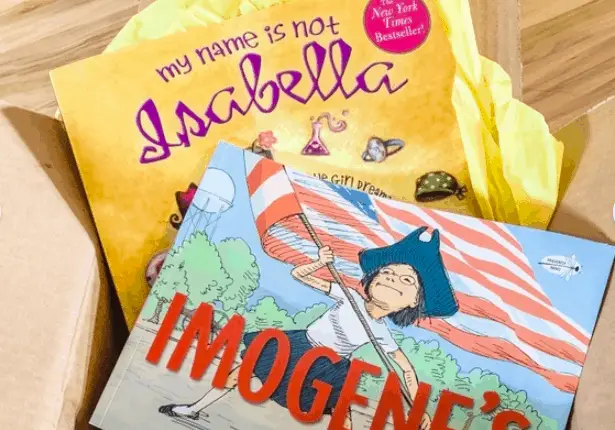 This box provides carefully curated and colorfully wrapped books to make it easy to talk about the world. The age range is from 4 to 8 and 10+. Each month the box will contain books based on theme ex. Fierce Females or Diverse Characters.
It contains:
Diverse characters
New and Classic titles
Help raise empathetic little humans!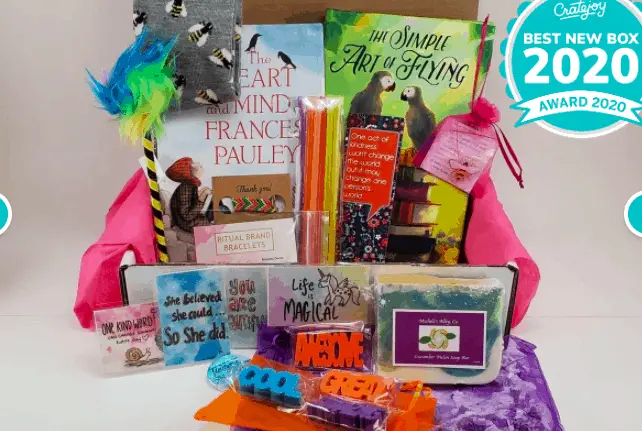 This box is specifically for girls from age 6 to 13. Every box contains 2-3 books and in addition 6 to 8 beauty items. It provide extra fun to make the reading interesting.
It contains:
New Books every month!
Beauty and Lifestyle items in every box
Mini and Full-size boxes available
A fun and educational gift!
Early Reader Option Now Available!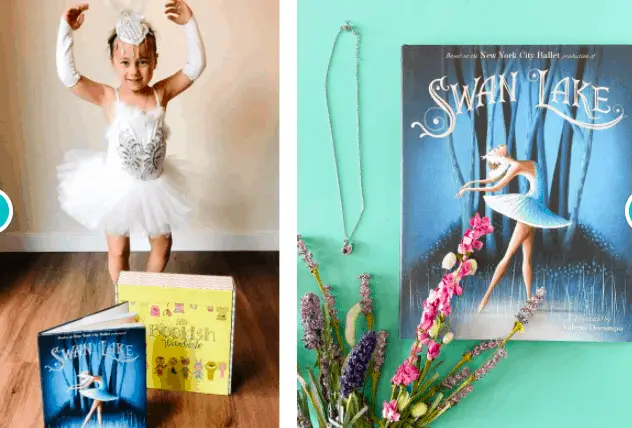 This box is created to inspire imagination on a child. It contains a book, matching costume and accessories based on one of the characters of the book. It contains also arts and crafts, play cards, and games.
It contains:
Age-appropriate, educational, engaging books with hands-on activities and games.
Each box comes with a high-quality costume and accessories to bring your book to life!
Encourages kids to read the fun way with creative arts and crafts for everyone.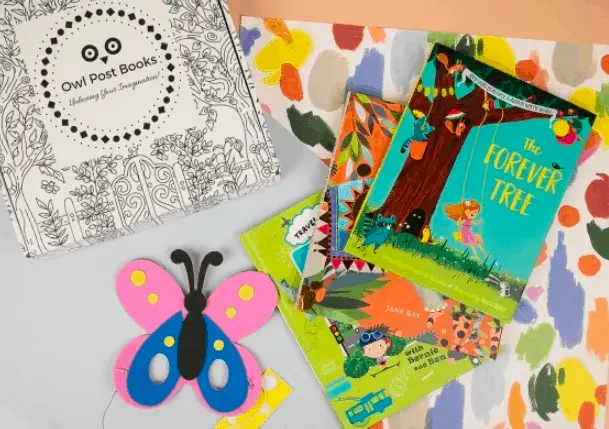 This subscription box is curated by a teacher that has been educating kids for 15 years. It contains high-quality books, it is convenient and fun.
It contains:
Imagination Box subscribers will receive 3 brand new, age-appropriate books, a seasonal craft, and an interactive box each month.
Imagination Mini subscribers will receive one age-appropriate book and a fun seasonal craft shipped in a colorful mailer each month!
The YA Fantasy Imagination Box includes three brand new YA books that every fantasy lover will enjoy!
The subscriptions cover the ages 0-3, 4-7, 8-10, Tween 11-13, and Young Adult Readers.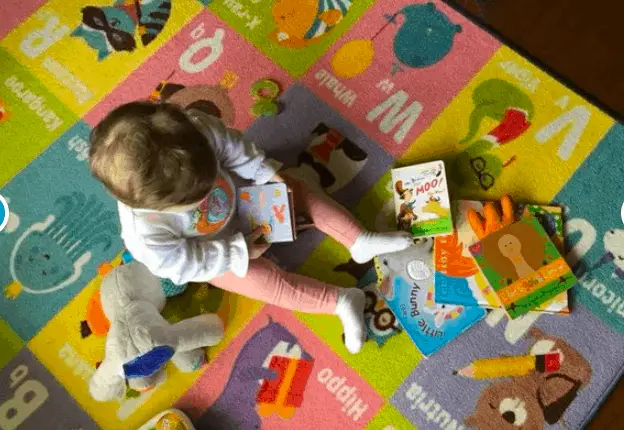 It is a monthly subscription box that delivers hand-selected, age-appropriate children's books to you. It contains informative books, a combination of age-appropriate picture books, storybooks, board books, and tactile books
It contains:
Hand-selected books curated by parents based on age, gender, and interests
Age-appropriate, educational, engaging books for the child in your life!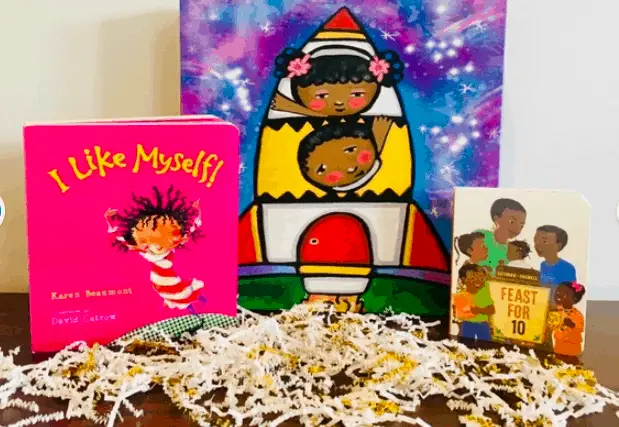 It is a box that promotes multicultural interactions. Jambo sends 2 books each month that features a child of color as a star. The books are inclusive of modern communities and are sure to engage your children's imaginations.
It includes:
Stories emphasize fun things the engage young imaginations
Multicultural children star in every book
Two or three inclusive books for your 0-2-year-old child.
People of color shown in everyday situations
Great stories with relatable characters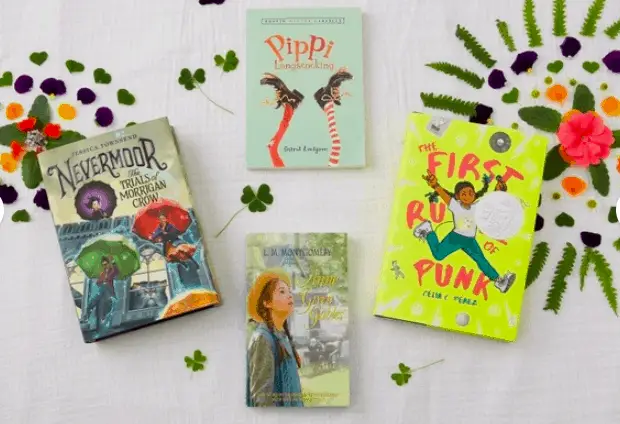 This box provides four books that are made to engage and entertain your readers. Each box include a series of inspiring stories for young readers.
It includes:
Children ages 0-4 will receive a variety of board and picture books
Children ages 4-8 will receive a selection of picture and early chapter books
Children ages 8-14 will receive an exciting selection of fun and challenging chapter books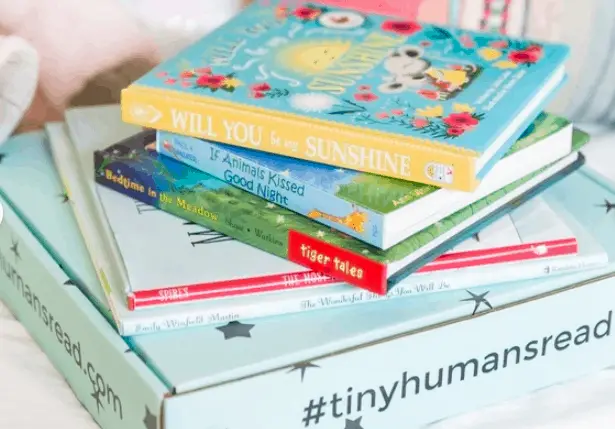 This box provides books for kids between 0-8 years old. Each months the box arrive with a collection of whimsical stories for kids. The stories are silly, teach a valuable lesson, or be inspiring.
It includes:
Board Book Box – 4 board books ideal for newborn – 3 years old
Picture Book Box – 3 picture books ideal for 3-8-year-olds
Sibling Box – 2 board books + 2 picture books for families with multiple age ranges
Whimsical gift-wrapped books + BONUS activities to get into storytime!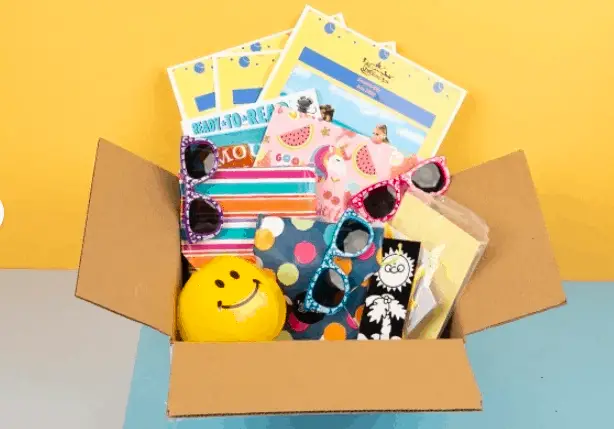 An experienced teacher designs this box. Each box contains a children's book, a learning & development guide, and special perks such as toys and craft projects.
It contains:
High-quality children's books
Fun, educational activities for children
This box features a board book, a learning and development guide, educational activities, and more fun items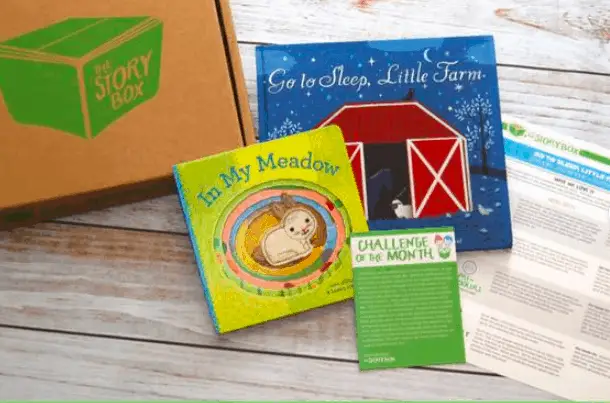 Each box includes two children books accompanied by a parent guide written by a speech-language pathologist. The books are funny and inspire interest.
It includes:
A speech-language pathologist curates the boxes to help you use books to facilitate communication and pre-literacy skills.
Picture Books Package (ages 2 1/2 – 6): two picture books and a parent guide
Board Books Package (ages 0 – 2 1/2): two sturdy board books and a challenge card (tips for reading with your baby)
Family Package: one picture book, one board book, parent guide, and challenge card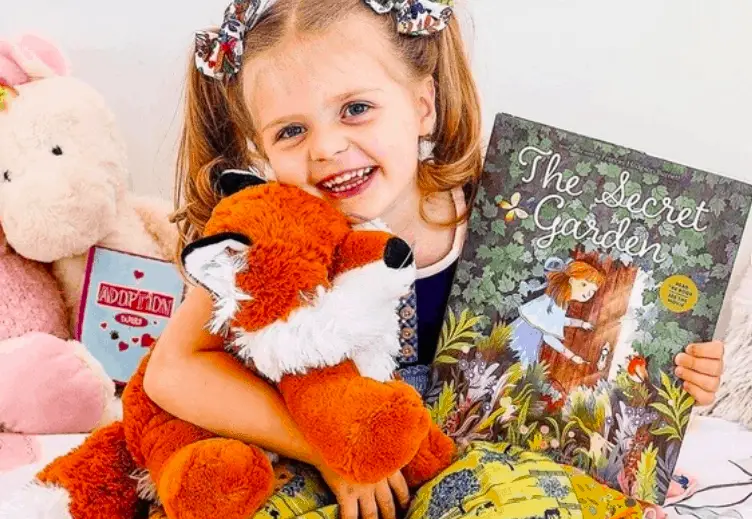 How to make kids love reading? With this box, of course! Every box contains a plush animal with soft fur, a staffing pouch with zipping tie closure, a velcro backs for easy finishing (no sewing required), a soft, cloud-like fluff to stuff your new friend, adoption papers and more.
It contains:
Materials to build your own new Teddy Bear
A New Book each month featuring our latest plush animal
Reading together fosters language and a love of learning and reading in Children
Now with Chapter Books for ages 8 and up, too!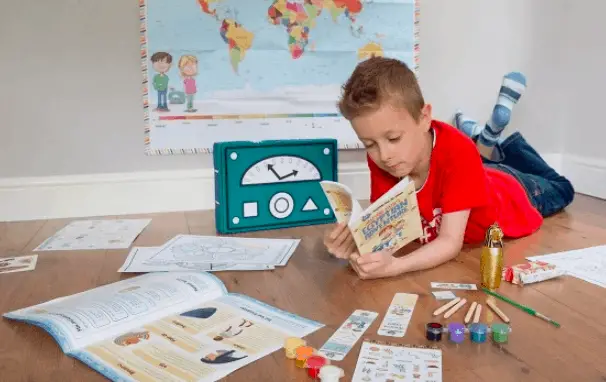 Each month, a time machine bursting with fun, educational activities will arrive at your door, introducing a new time in history. Through an exciting combination of fiction, non-fiction, puzzles, crafts & more, children will be inspired to love history.
It includes:
Devised by a teacher with a passion for history
Exciting topics include learning about pharaohs in Ancient Egypt to modern histories, such as evacuees in WW2.
Each box is based around an exciting story, written & illustrated exclusively for us, that follows Max & Katie's adventures through history.
Learn fun facts in the supporting magazine, add your timeline sticker to the world map timeline, and solve the puzzles!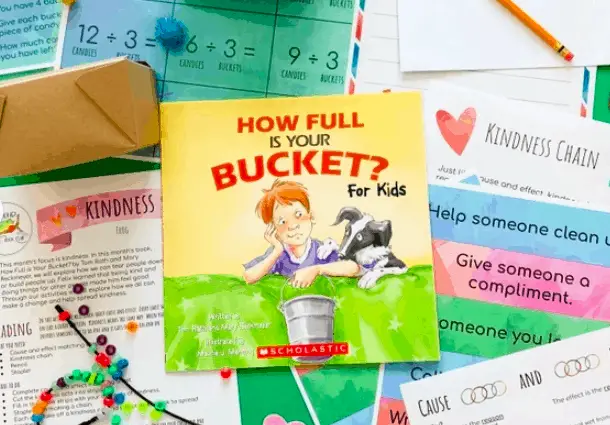 This box contains age appropriate books and fun activities to do beside reading. Additionally you can inspire your kids to write and do math. It is a box that provide a meaningful, fun educational experience.
It contains:
New theme every month
Age-appropriate activities
Emphasis on reading
Educational
Stuffies & Stories is a monthly subscription box for children featuring a quality children's book & a soft, cuddly stuffed animal. Perfect for bedtime stories, independent reading, or just some time away from the screen. Each month's stuffed animal is featured in the monthly book and is bound to be a child's new cuddly companion.
It contains:
Each box contains a quality children's book and a soft, plush stuffed animal
WHY SUBSCRIBE TO A SUBSCRIPTION BOX FOR CHILDREN BOX?
Choosing books for kids can be stressful, and it can be time-consuming, and your child may not like reading at all. However, subscription boxes are surprises that come each month that kids learn to expect and enjoy. They want to unbox them and discover what is inside.
Some boxes are very creating, including fluffy animals, costumes, and other intriguing and fun elements for your kids. Kids may start to enjoy reading because of the creation and the fun surrounding their books.
Additionally, reading to kids can be a bonding experience, enjoyable for the small one and for parents. It is a time when one can learn to know better their child, and spend some quality times. Kids come out of this time together with an higher education and knowing their parents love them.
CONCLUSION
I hope you could find it useful and you could find the perfect box for your kids. If you have any questions or want to add anything, leave it in the comments below.
Read also: 17 BEST ART SUBSCRIPTION BOXES FOR TEENS, ADULTS, AND KIDS