23+ BEST JEWELRY SUBSCRIPTION BOXES TO SURPRISE
Would you like to know what the best jewelry subscription boxes are? Jewelry are gifts suitable for different occasions. Whether it's Christmas, a birthday, a wedding, an anniversary, or Saint Valentine, most people would love to receive such a lovely gift.
A jewelry subscription box is a collection of various pieces of jewelry put together by the provider, based on a collection or supported brands, and shipped monthly to someone. It is a surprise and also the perfect way to have always a novelty each time without too much stress.
Here is our collection of the best jewelry subscription boxes.
"This blog is readers-supported, and this post contains affiliate links, which means I will make a commission at no extra cost to you should you click through and make a purchase. "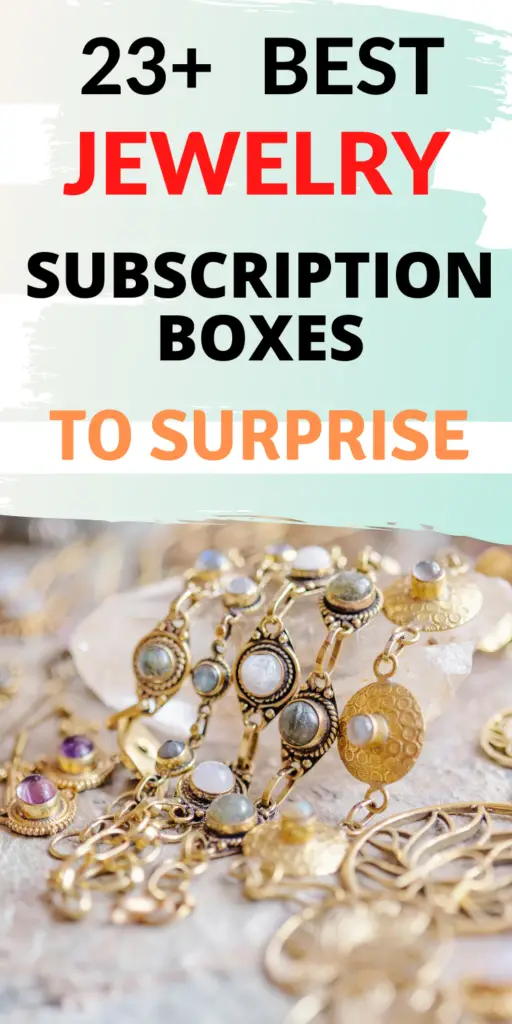 WHY FIND AND GIFT THE BEST JEWELRY SUBSCRIPTION BOXES?
A piece of jewelry is almost a perfect gift for everyone, even for men. They show you care and that a receiver is a particular person. Other reasons make jewelry special.
They last long, are suitable for any occasion and can be gifted even when there are no festivities or special days. A subscription box that provides jewelry routinely is one of the best presents for another person or even to treat yourself.
One can gift a jewelry subscription box for the following reasons:
Constantly surprising another person
Treat oneself
Perfect for jewelry lovers
Jewelry are wearable and can fit various outfit; a subscription box can provide many items suitable for many occasions.
Jewelry provided in a subscription box can last for a long time
Build up a collection of jewelry
A subscription box with jewelry can fit any personality and preference.
Many subscription boxes allow people to choose between brands and types of jewelry.
Here is our selection of the best jewelry subscription boxes:
If you or your friends or family like jewelry but want to have also other objects or gifts to wear with them, then you should not look further than the Chanel Luxury Vip Gift. The box contains designer gifts, jewelry, and other items, such as makeup pouches, bags, luggage, shoes, accessories, and more.
They come from the most famous brands worldwide, such as Prada, Gucci, Chanel, Moschino, etc.
It includes:
Jewelry
Jewelry cases
Cosmetic cases
Makeup
Candles
Umbrella
Pens
Shoes
Accessories
Combs
Shirts
And more
If you are planning to gift jewelry to your mom, the Mother's Day Box is a perfect combination of jewelry and many other designer items. In addition, the box includes high-quality items to delight moms every month.
It includes:
Worldwide Designers' famous items
High-value products
The Vault Box is full of gems, various types of jewelry, and accessories. This box is specifically made to pamper anyone with trending items that follow the moment's fashion.
It includes:
Gems
Chic accessories
Trending cosmetics
Creative accessories grouped together
Il Juju Box is a subscription box that provides personalized jewelry items. Most items are handcrafted and specifically chosen based on the preferences indicated.
It includes:
Personalized jewelry with the name of the receiver or other personal symbols, such as birthstones or similar
Another piece of jewelry
Fun goodies
Accessories
Lifestyle items
The Coastal Craft subscription box is for those who love making jewelry. It contains all the supplies and tutorials on creating stunning jewelry pieces. With this box, one can create his own style and unique piece to put together with clothes or other jewelry.
It includes:
Kit with all supplies
Video tutorials
Natural gemstones
Gold and Silver findings
Eco-friendly
Moderately You is an excellent box with jewelry pieces and a matching handbag. All of those items are very high-quality products. The box helps to create a great final look for anyone. It is possible to choose between silver and gold jewelry and handbags.
It includes:
Jewelry
Handbag
High-quality products
The Ohana Jewelry is a box that provides jewelry items to spark the beach and ocean style in anyone. The box includes jewelry, accessories, and bath and body care items in complete Hawaiian style.
It includes:
Jewelry ( silver, gold-filled rose,
Accessories
Bath and body items
Beach items
A different beach theme with every box
Those that like bijou pieces will enjoy the Bijou Jewelry Bless Box. The box includes fashionable jewelry pieces. A creative designer designs each piece, and it is unique. It is a perfect gift for different occasions such as birthdays, anniversaries, and others.
It includes:
New jewelry every month
5-7 items per box
Luxbox is intended to be a luxury jewelry subscription. It includes items with sterling silver, rose, and yellow gold items, and the items included in the box are made to be matching with each other. In addition, each jewelry piece is designed by stylists that are following trends and new fashions.
All jewelry are hypoallergenic.
It includes:
Bracelets
Necklaces
Earrings
Nickel free metals
One of the best jewelry subscription boxes is this one! It is perfect for all types of budgets, and it is a present that can fit many situations, such as birthdays, anniversaries, and other events. In addition, every month, there are new items to discover.
It includes:
Earrings
Rings
Three jewelry pieces in every box
Jewelry pouch included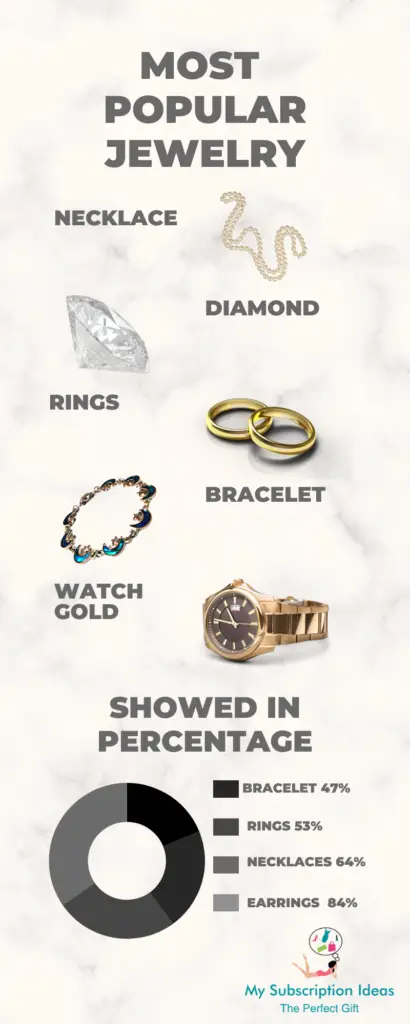 The Glamour Jewelry box is the perfect present that meets the necessity of those who want to gift nice-looking jewelry but with a low budget. Each piece is high-quality and well-designed. Every month there are new fashionable items in each box, including earrings, necklaces, bracelets, and more.
It includes:
New jewelry every month
New designs and ideas
Sexi anklet is a jewelry box that provides gifts to anklet lovers every month. Those who like to show new styles and change their jewelry to fit new clothes will not be disappointed with this subscription box.
Each box includes between 20 to 30 anklets with different themes and styles, such as hip-hop, classic, boho, etc. The designs used are plenty. For example, you could find elements like shells, coins, stars, fruits, various shapes, butterflies, and many other geometric shapes.
It includes:
All anklet has an adjustable length
Lobster clasps
High-quality items (made with alloy, zircon, cubic zirconia, crystals, rhinestones, beads, turquoise, and semi-precious)
Hypoallergenic
Lead and nickel free
Those who like jewelry but at the same time want to be different from the rest of the world will be happy to receive the "Unboxing the Bizarre" subscription box. Every box includes jewelry and accessories to help the receiver look stylish and wild.
It includes:
Four different pieces of jewelry each month
Different accessories every month
Different styles and designs
My Jewelry Box provides a matching set of jewelry. Each set is composed of a necklace, ring, and bracelet. Each set is beautifully designed and eye-catching. In addition, each piece of jewelry are made with eco-friendly materials and without lead and nickel.
It includes:
A set of matching jewelry (necklace, bracelet, earrings, and ring)
Eco-friendly materials
Adjustable rings
If you wish to improve your collection of jewelry or know someone who would like to receive new pieces every month, this is the correct box. It is specifically designed to provide casual jewelry every month with different designs and high-quality materials such as sterling silver, stainless steel, and gold coated.
It includes:
High-quality jewelry
Waterproof and tarnish free
The Glitz Drop subscription box is a high-class gift for those that like jewelry. You can select how many pieces you want to gift or receive, decide on the style you like, and wait for the following box. All parts are nicely styled and carefully selected every month.
It includes:
High-quality jewelry in each box
Stainless steel, gold-plated, silver plated jewelry
Modern-looking jewelry pieces
If you like the minimalist style, then the "Minimal Jewelist Box" is the right present. It is the perfect gift for family and friends that like jewelry but do not like to be so flashy. Every box includes earrings, necklaces, rings, and other jewelry pieces.
It includes:
The possibility to choose the style and tone
Three pieces of jewelry in every box
Only elegant and classy pieces
This box is perfect for those that like artisan handmade jewelry. Each box contains earrings, anklets, rings, necklaces, keychains, and bracelets. Every month the items come with different themes and styles.
It includes:
Five matching stone jewelry
Additional accessories
This is an original jewelry box for those who like to be different and be fashionable differently. Every box contains five other jewelry pieces. Every month the theme and style are different.
It includes:
Five jewelry pieces
New themes every month
This box specializes only in earrings. It provides a lot of different beautiful earrings to match other clothes. Each piece is handmade and carefully designed.
It includes:
Unique earrings in every box
Each earring can be silver-plated or made with copper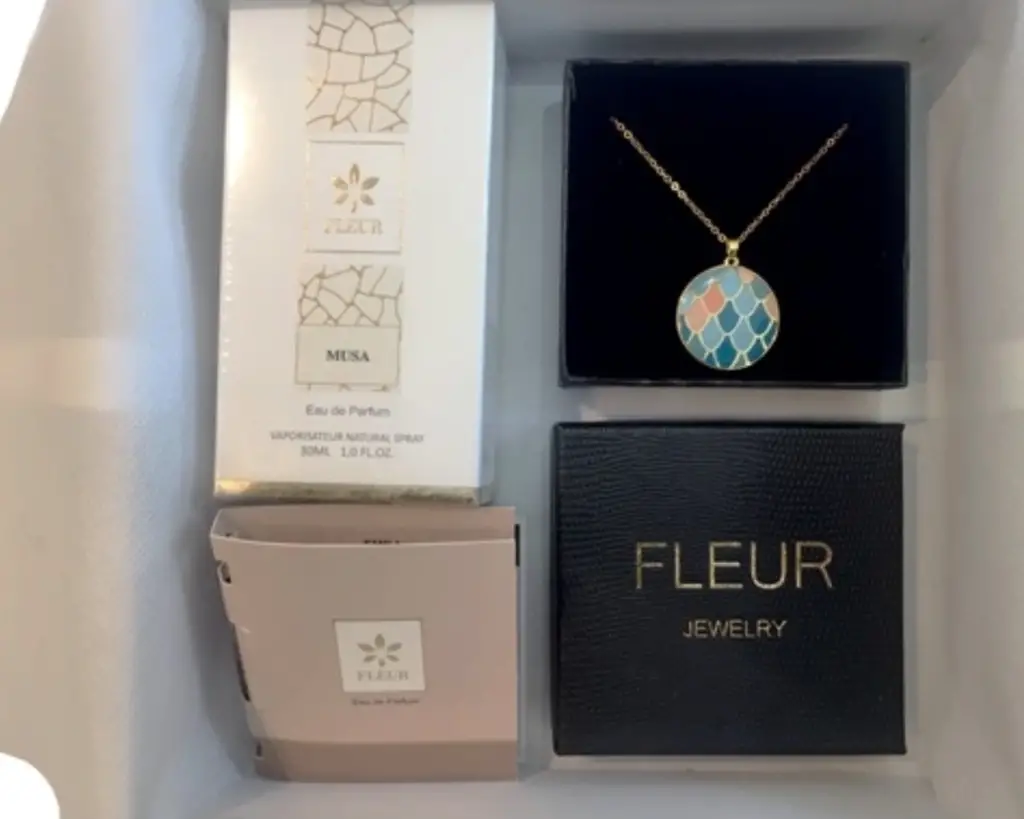 If you are looking for a combination of jewelry and other items, such as fragrances or accessories, the Fleur Luxury box can be the perfect solution. This way, you can gift jewelry with a touch of novelty each month.
In the box, you can find new jewelry every month, and other items, such as skin care products, perfumes, and much more.
It includes:
New jewelry with each box
Self-care products
Accessories
The Shabby Lane box is perfect for those who like to wear jewelry but want something different from the classic style. Each box has trendy and fashionable items made with other materials to reflect a sort of tribal type of fashion.
Everything is put together to be fun and trendy.
It includes:
Four bracelets
Earrings
Cosmetic pouch or other surprise items
If you want a gift with artisan jewelry, this is the right gift. There is nothing better than artisan Jewelry. Each piece is made with care and beautiful designs. Each box contains a lot of different earrings, a necklace, and one surprise item.
It includes:
8+ earrings
One necklace
Various items, such as bags, plant hangers, suncatchers, earring hangers, etc.
Boho-style items included
Read also: 17+ BEST LUXURY SUBSCRIPTION BOXES FOR HIM AND HER
FREQUENTLY ASKED QUESTIONS