15 BEST DIVINATION SUBSCRIPTION BOXES FOR WITCHES AND NOT
Are you looking for divination subscription boxes to try? Does the magic world attract you? If you or any of your friends are into reading Tarot, astrology, discovering supernatural forces, and discovering the hidden significance of events, these boxes are perfect.
A divination subscription box is a mixture of gifts and tools for astrology, tarot cards, crystal-gazing ouija boards, horoscope, and more. It is suited for people who want to learn about it and is an excellent way to surprise monthly enthusiasts in this field.
Let's see the best divination and witches subscription boxes for you, your family, and your friends.
"This blog is readers-supported, and this post contains affiliate links, which means I will make a commission at no extra cost to you should you click through and make a purchase. "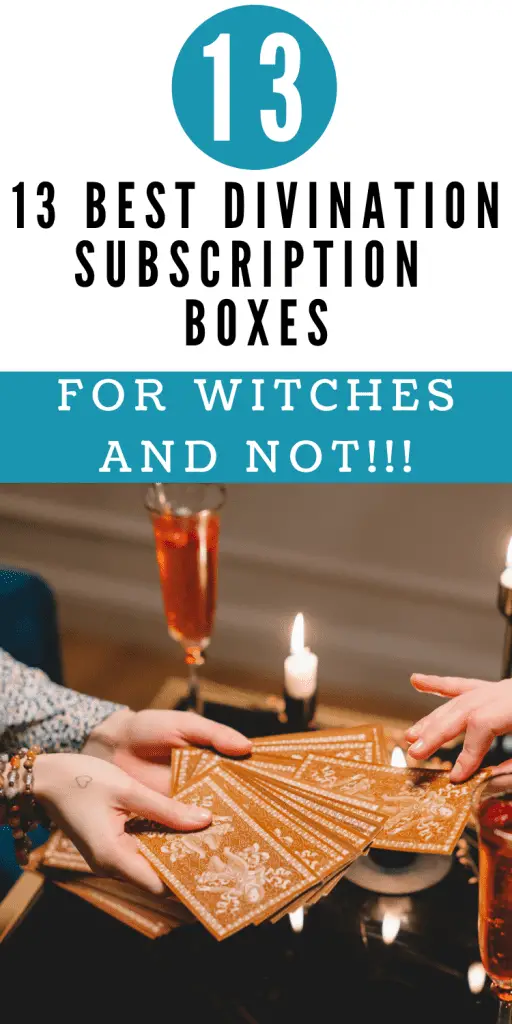 WHY GIFTING DIVINATION SUBSCRIPTION BOXES?
Many people are interested in understanding what is happening to them or what will happen, using various methods of divination. Therefore, magic and supernatural forces have a lot of attraction for many people.
Some would like to know more, for example, how to read the Tarot or the meaning of dreams. Others know a bit and would be delighted to receive a monthly present with various gifts that include many items about multiple methods of divination.
Divination is ancient. It comes from the origin of humanity and has evolved into more modern ways of doing it. Here are some good things a person can learn to do or can improve in divination:
Reading tea leaves
Pendulum divination
Reading Tarot
Do horoscopes
Osteaomancy (learn to read bones)
Lythomancy (learn to read stones
Numerology
Read the Celtic Ogham
Astrology
and more. There are over 60 methods of divination. Each subscription box can surprise the receiver with new techniques. You do not have to be an expert to gift a divination subscription box. The box is an excellent gift because someone else will put them together and surprise them each time.
We have selected the most popular divination subscription boxes to add the best value to someone's life.
The Tarot Oracle box is ideally suited for those who are cards enthusiasts. It enhances their collections and ability. If you have friends intrigued by Tarots, this is the box for them. Each package includes an Oracle deck, crystals, and two other surprise items.
It includes:
1 Oracle Deck
1 Tarot Deck
1 crystal
2 products centered around the theme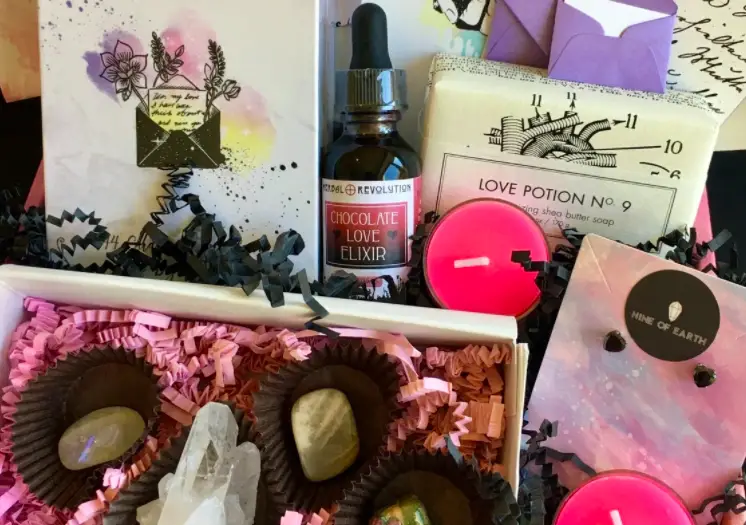 The Nine of Heart Tarot Oracle Box is another great gift for tarot enthusiasts, but it also includes items such as jewelry, candles, and a new gift every month. The box is perfect for those who like Tarot but want to add a certain swag to their life with items meant to improve someone's lifestyle.
It includes:
Full size decks in every box
Mix of items to aid in spiritual growth
Other fun lifestyle items.
Unique Women's jewelry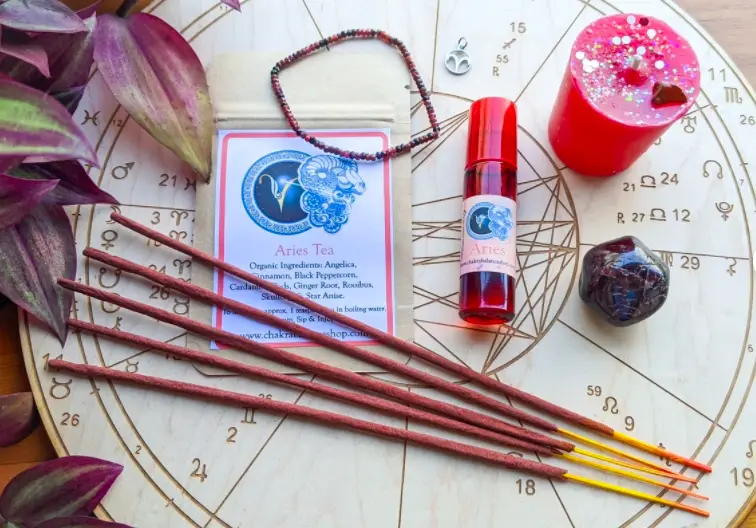 If you are looking for any other divination box not centered on the Tarot, this box is for you. If you are looking for a box covering self-care, aromatherapy, tea leaves reading, and astrology, you may find the Chakra Astrology box perfect.
It is a box that provides spiritual items connected to astrology, such as organic tea, crystals, candles, incense, and more.
It includes:
Organic Aromatherapy
Natural wax candles
Organic tea
Crystals
Gemstone jewelry
Natural incense
Tarot card
Astrology report for the month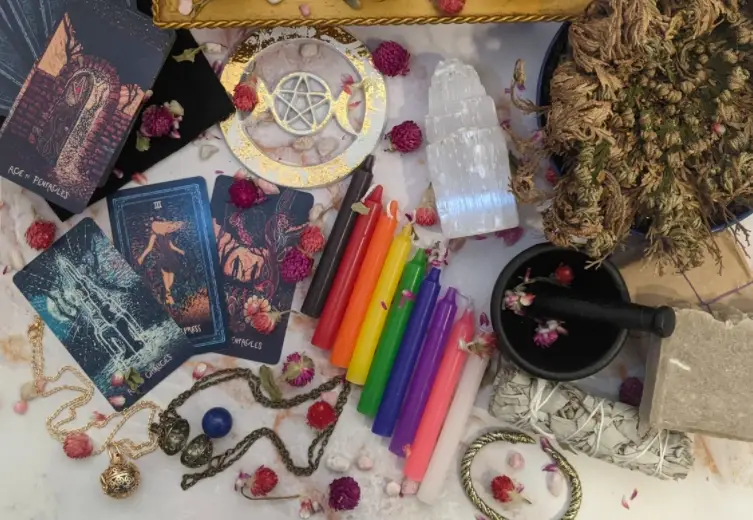 Monthly Witch Box is a gift including all the basics of divination and surprise items every month. In addition, it includes spiritual information for the month and items to enhance magical practices such as spell kits, crystals, altar tools, and more.
It includes:
Full astrogolical blueprint
All items are ethically and sustainably sourced
Item restrictions such as allergies or vegans are allowed
Crystals
Spell kits
First box free
The Priestess box is suited for those who have a passion for divination but are not experts. Those with a basic knowledge of it would benefit from this box. The box includes surprise items, such as books, rituals, and various supplies every month.
It includes:
Essential supplies
Altar décor
Books
Intermediate rituals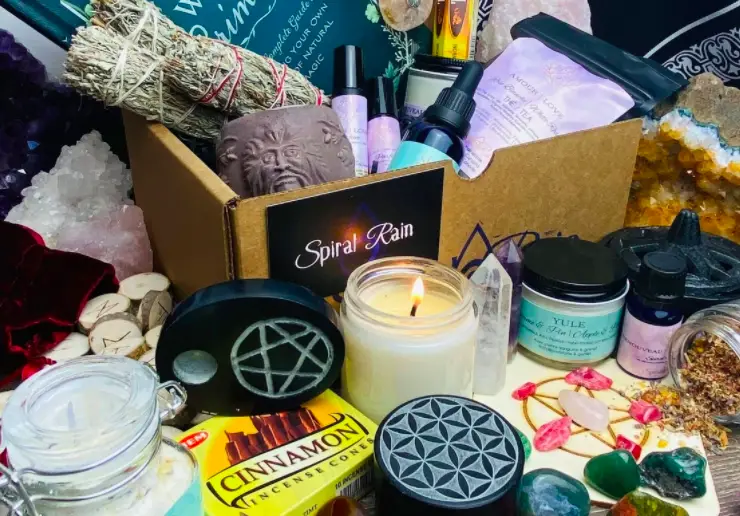 The Spiral Rain's Witch box is suited for people intrigued by magic and would like to know more about rituals. In addition, friends or family members that have a dark side they would like to explore will significantly benefit from this monthly gift.
Every month, a different theme is built around specific rituals, and each time is handmade.
It includes:
Handcrafted box of herbs
Healing crystals
Ritual oils
Incenses
Candles
An extensive set of grimoire pages filled with corresponding deities, spiritual alchemy, energy and body work, herbalism, affirmations, kitchen witching, astrological forecasts, and ritual work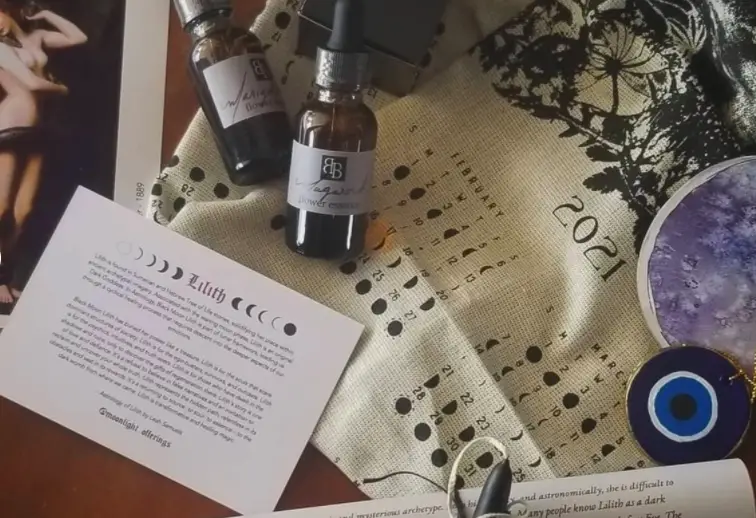 THE RCS Black Box is filled with tools and potions for all the new apprentice witches! In addition, those who want to learn some magic tricks will be intrigued by the box. Each month the box is full of unique gifts around creating magical potions, spells, astrology, herbalism, and more.
It includes:
herbalism
Potion-making
Candle magic
Plant magic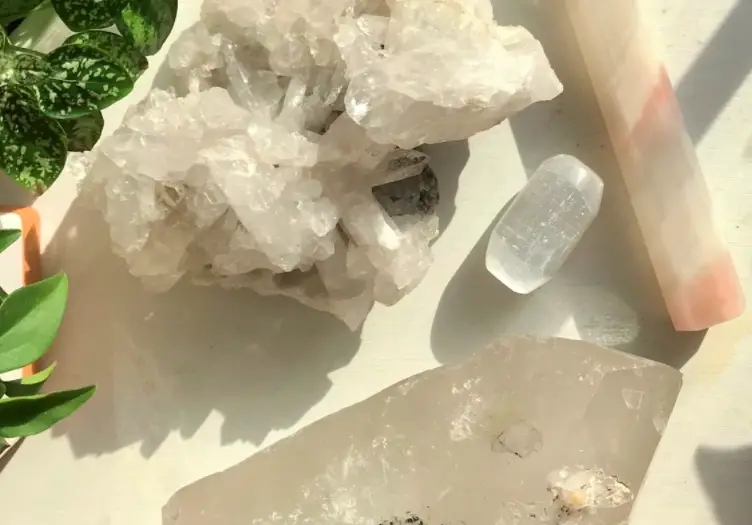 The Monthly Mystery Box is centered around crystals and divination practices to be done with them. Every month, there is a new collection of different crystals, with names and why they are needed.
It includes:
Towers
Palms
Tumbles
Spheres of different crystals.
The Sacred Space Crate is filled with spell items for those that want to practice magic. In addition, kids, family members, and friends can get attracted by its mystery. Each item in the box is handcrafted and based on a monthly theme.
It includes:
10-14 handcrafted and Spell crafted items
Sacred alter items
Spell crafted candles
A monthly spell
Crystals
Spell crafted pendants
Herbs
Teas
Smudge items
Beauty
Healing items
Moon in the Astrology Calendar
1 beauty product
1 healing product
Herbalism & Ceremony is perfect for those who believe in the healing power of herbs and their use for ceremonies and various spells. The box is packed with new herbs, instructions for use, rituals, unique ceremonies, and more every month.
Each month, the box focus on a new herb and all the ceremonies that can be done with it, with all the information of its historical background.
It includes:
 Herbal Infusions
Tarot Deck or Divination Tools
Sachets with Herbs
Stone Jewelry
Anointing Oil
Incense Oils
Room Clearing Spray
Natural Perfume
Related Stones or Crystals
Herb Containers
Our Raven's Nest concentrate on things like sabbat, esbat, spells, Wicca, and witchcraft. Every box comes with exciting items for practicing various spells and rituals, with the instructions.
It includes:
Decorative books
Oil
Herbs
Room sprays
Charms
Poppets
Mojo
Bags
Statues
Altar tiles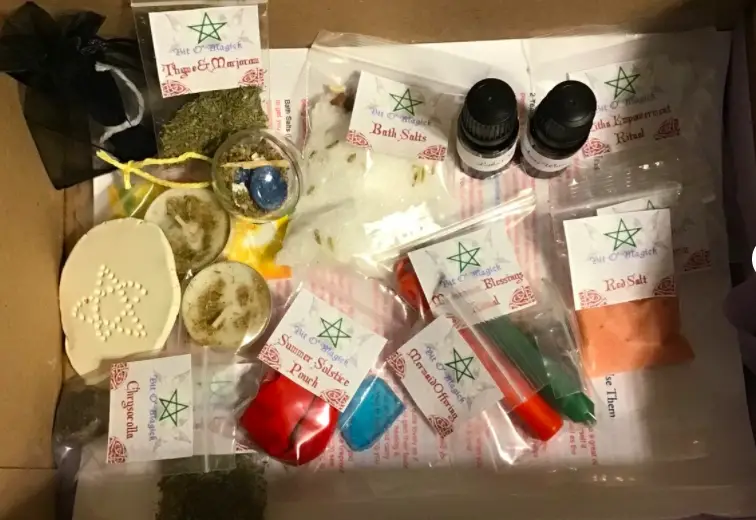 The Bit O'Magick Monthly Wicca box is filled with magical gifts specific for Wiccans, Witches, and Pagans. The box is built to initiate new people to magic and surprise those already familiar with it.
It includes:
Rituals
Crystals
Candles
Mojo bags
Each month new rituals with supplies
Handmade incense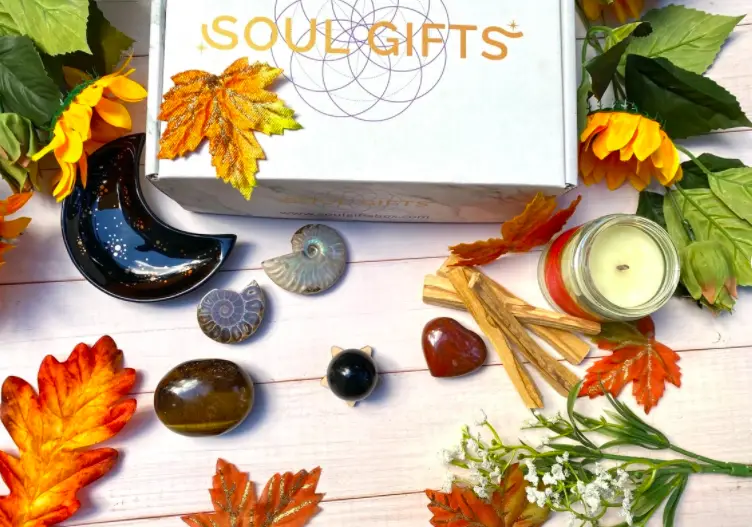 Soul Gifts is a subscription box that can be personalized to the receiver's preferences. The box will include between 3 to 5 crystals with particular purposes and energies each month. Crystal beginners can benefit from this box and enjoy it.
It is a perfect box for those who like to collect them.
It includes:
High-quality, natural stones and crystals
Educational materials to understand the contents of your box
Candles
Smudging tools
Bath salts
Essential oils
Gratitude journals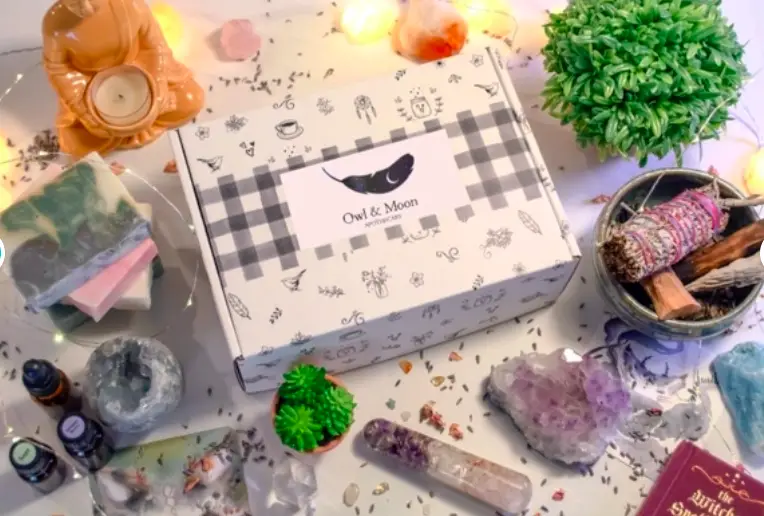 Owl and Moon Apothecary Box is a mixture of divination methods, ritual items, and magic crystals. It is also indicated for Reiki enthusiasts. Every box is built around a theme so that each box will be different and a surprise each time.
It includes:
Hand-poured Reiki
Charged wooden wick crystal
Adorned intention candle
Personally curated crystal
Hand blended aromatherapy product
Handcrafted vegan artisan soap
Four corresponding spiritual gifts
Tips and tricks to create a magickal life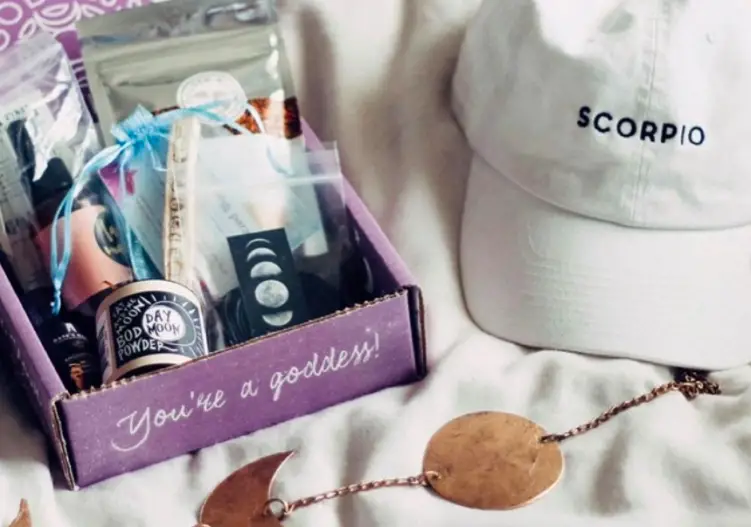 Goddess Provisions Box is a box that creates a mix of spirituality to enhance someone's beauty. It channels life energy using crystals, aromatherapy, natural beauty products, spiritual tools, and superfood snacks.
It includes:
100% vegan and cruelty-free
Crystals
Aromatherapy
Vegan beauty
Superfood snacks
Tools for spiritual growth
Free U.S. shipping!
5 to 7 full-size products in each box
CONCLUSION
Divination subscription boxes are great for those who want to explore their spiritual side of life and learn more about ancient divination methods. Hopefully, you found something that suits you.